BY LINDA BENTLEY | MAY 14, 2014
Town revokes auto repair shop's home occupation permit
Cordwell's letter indicated he had visited the site several times to discuss concerns about the operation of Schulze's home occupation
CAVE CREEK – On April 10, Planning Director Ian Cordwell had Town Marshal Adam Stein deliver a letter to Christian Schulze at 41355 N. Fleming Springs Rd. revoking his Home Occupation Permit HO-11-03 for CS Motor Sports issued in November 2011, which allowed for "automotive repair inside existing garage."

Cordwell's letter indicated he had visited the site several times to discuss concerns about the operation of Schulze's home occupation.

Schulze's application stated the repair of vehicles was to be conducted inside the existing garage.

Cordwell wrote, "The proposal as outlined in your application seemed reasonable to me at the time. You even graciously stored a small car for me in the garage for several months while I considered feasibility of repair and until I could clear space for it on the property being rented by my family. However, a proposal that seemed reasonable at inception has become inappropriate for assimilation into a residential zone."

After Cordwell received numerous verbal complaints from neighboring property owners regarding what appeared to be a commercial automotive repair operation in a residential neighborhood, the town manager joined Cordwell on a visit to the site.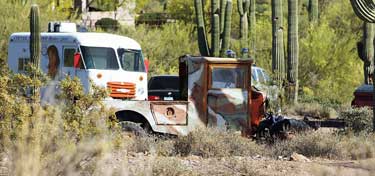 During that visit, Cordwell said it was determined that, of the many vehicles parked outside the residence, two were not owned by Schulze or family members and one of those two vehicles was being repaired outside while the other was parked outside while waiting for parts to be delivered.

Back in November 2013, Bob Hughes and Tom Rhoades attended a Thursday morning Office Hours with the Mayor and Vice Mayor to complain about Schulze's auto repair shop across from their residences on Fleming Springs Road.

Hughes stated there were always seven to 10 vehicles parked in front of the residentially-zoned property.

He said it has been going on for two-and-a-half years and despite sending an e-mail to Stein and Cordwell, there had been no resolution.

"It's my understanding Councilman Ernie Bunch uses them," said Hughes, who reminded the mayor and vice mayor he had brought the issue up during the summer but no one has gotten back to him.


Rhoades said, "Last week, there were never fewer than seven vehicles in front of the house … a transit bus, a pickup truck, three cars and a boat on a trailer … it's an eyesore."

Hughes said, "All we're asking for is existing laws to be enforced. I'd like someone to look into it and at least get back to us."

Cordwell stated in his letter, "In reviewing the ordinance and permit application, the home occupation is required to be conducted by a resident thereof and to clearly be subordinate and incidental to the residential use. Neither of these requirements are (sic) in compliance."

According to the narrative submitted for the permit, Schulze also indicated he would be the only employee, which Cordwell stated was also found not to be the case.

After having received a written complaint on April 7, signed by several property owners in close proximity to Schulze's, in combination with the observations made by himself, as zoning administrator, the town marshal and the town manager, Cordwell said he was revoking Schulze's home occupation permit, effective 30 days from the date of his letter.

Cordwell instructed Schulze, if he disagreed with the determination, he could file an appeal using the enclosed appeal application form within 10 working days to Cordwell as the zoning administrator.

While the appeal application fee is normally $600, Cordwell said, "Per the direction of the town manager I am only requiring a fee of $75 to cover the cost of advertising."

The appeal would then be scheduled for review before the Cave Creek Board of Adjustment.

Courtesy photos by Adam Stein