My View
BY DON SORCHYCH | MAY 14, 2014

Do lawyers lie?
The depositions of the slate are progressing. The only one remaining to be deposed is the so-called Wall Street Hotshot, Councilman Reg Monachino. I understand the assertions he worked in the mailroom there are the result of a joke of some kind. But what did he really do? Maybe the deposition will lift the veil.

New Jersey political tactics are being used by Vice Mayor Adam Trenk and his hired Attorney Tim LaSota. LaSota has filed public records requests with Cave Creek Unified School District for information about school board member Susan Clancy, who is chair of the Political Action Committee Cave Creek Caring Citizens, organized to recall Trenk and the other three slate council members. LaSota has also filed record requests with CCUSD for information about Clancy's brother who once taught there. Exactly what does her brother have to do with this?

Like most people who suffer from narcissism, Trenk is an avid Facebook aficionado. It is all about self and contradictory of facts.

For example, in a recent Facebook post he said the following: "Among the whole previous council only a SINGLE agenda item was proposed during the entire last TERM. This fact would be funny if it was not so tragic, having resulted in: a bloated budget, approx. $60Million dollars in municipal debt, selective enforcement of ordinances, outrageous deferred maintenance on newly constructed infrastructure, no accountability within Town Hall, no cohesive economic development strategy, five years of stagnation on securing the annexed open space, etc. . ."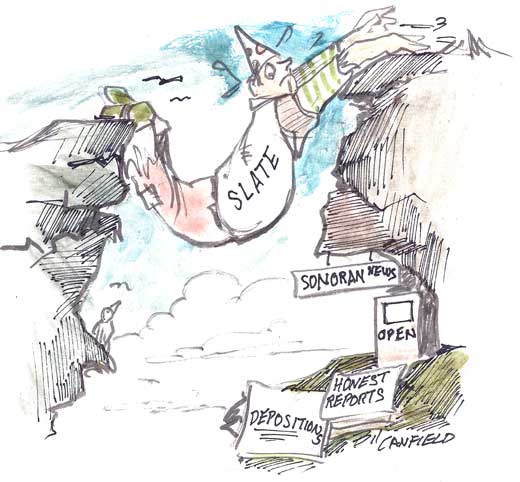 Trenk, when he previously served a single term on council voted for the $60 million in debt, mostly WIFA loans. Yes, all of them, and now he blames the previous council, meaning himself.

Nearly all his other assertions ignore the fact town hall, specifically Abujbarah and with council approval, responded to the recession by cutting hours of employees, deferring many municipal projects and surviving the recession with a surplus which the town is now spending for things like the Abujbarah lawsuit brought on by Trenk. You have to wonder if it crossed his hubris mind his deposition last week was due to his actions. I also heard the supposed brightest guy in the room suddenly developed memory loss when questioned.

Here is another Trenk brain gas passing: "Unfortunately the citizens don't read about this progress in the local paper. Rather, the self proclaimed "watch dog" openly yearns for the olden days of malfeasance and makes up the most ridiculous lies. "Trenk doesn't live in Cave Creek", "the Town does not answer public records requests", "Trenk is facing a bar complaint", "Trenk usurps Manager's Power", "The Council abandoned the trails", blah blah blah. . . WHERE IS THE EVIDENCE?"

The evidence is in Sonoran News.

Trenk admitted in court he lived in Scottsdale but a friendly judge ruled he "intended" to move here. Trenk wouldn't give out his address and we couldn't find him here except on weekends. Neighbors of his in Scottsdale, who saw him there regularly, asserted he only kept his horse in Cave Creek but didn't live here. We've been told he is now living here.

The town doesn't answer public records requests? They haven't, we have ample proof of that. Linda Bentley has written many words about that with no complaint from town hall because it is the truth, not a political fable like those Trenk espouses.

Yes, he faced a bar complaint and as in most cases, the bar said go to law enforcement and the county attorney; I am told that is being done.

Trenk usurps town manager's power? Yes, and once again Bentley laid it all out including the section of the Town Code he violated. And it is not the first time. When Abujbarah was Town Manager he told Trenk he could not come to planning commission meetings to promote Hogs 'N Horses. Trenk involved himself in a conflict of interest since he was the statutory agent for Hogs 'N Horses. Then Trenk began to call town staff about the application and once again Abujbarah stopped him, which is what the current town manager should do. Town Manager Peter Jankowski told us he knew about it but that is irrelevant; he should stop it.

The town abandoned the trails? Yes, they were going to and Trenk spoke at length about why the town should take the one sided deal offered by Gerald Freeman. Furthermore, Trenk mentioned what the lawyer told them in executive session which is against the law. But after fifteen of sixteen citizens spoke against the settlement, Councilman Durkin voted no and the rest of the slate, including Trenk, voted no too. Trenk already had proved where he stood but voted politically rather than stand his ground.

Trenk carries on about the "fiction" in Sonoran News, although he is the fiction writer, not us. He brags about himself and his colleagues "shutting off the flow of tax payer money to us." What money came to us was in our role as the official community newspaper and every dime benefited the town and its residents. Now the town is politically corrupt, thanks to slate control.

Trenk ends with a threat of boycott by writing, "Regardless, doesn't Cave Creek deserve a higher class of journalism? Before you do business with a Sonoran News advertiser, ask yourself 'would Cave Creek be better off if it could depend on honest reporting?'"

Cave Creek citizens depend on Sonoran News. We are the answer, as our readers know. And we have never sent you an email asking what to say about Trenk, as did one of the two blogs written on his behalf.

Cave Creek commercial real estate news
I received anonymous "news" on two subjects.

1. Carefree Kiwanis has bought the Epicurean Palette building for $1.9 million for their flea market building. You'd think that $1.9 million dollars would be better used providing the scholarships and educational programs that they say is their mission rather than a monument to themselves. What becomes of the $500,000 lot they bought in Carefree for their flea market building? $2,500,000 in real estate, to help the children?

Editor's comments: First, congratulations to the Kiwanis visionaries. This purchase is a win, win. The Epicurean building is way more cost effective than building a building and with more parking space to boot. The lot in Carefree was bought for a fire sale price and can be sold for a profit or kept for future use. This is future thinking that will yield more money than the old plan would have. The only improvement to their plan would be to fund vouchers which would really help children. We are paying enough taxes for public education but they always want more. See details on the NEWS page.

2. The C-4 Nest building will become another biker bar. That's what the town needs is another biker bar. Now bike week can shut down the entire town from west to east. Yes, but think of the sales revenue!

Editor's comments: Scary thoughts and hopefully not true. I only found interest by a bicycle shop so far. Hopefully we won't infect the east side businesses with road closures. The excuse of tax revenues to justify road closure is political chicanery and road closures should be limited to maybe one or two a year for community wide events that benefit everyone.