APRIL 30, 2014
Arizona Highway Patrol to honor 29 DPS Officers killed in line of duty with Memorial Ceremony
Annual event will take place on Monday, May 5
PHOENIX –The men and women of the Arizona Highway Patrol Association (AHPA) will pay their respects to the 29 Arizona Department of Public Safety (DPS) officers who have been killed in the line of duty. The Annual DPS Fallen Officer Memorial Ceremony is scheduled for Monday, May 5 at 9 a.m.

This annual memorial, that arrives one week before the nationally recognized Police Memorial Week, not only honors the officers, but also the sacrifices of their families. This ceremony is a solemn reminder of the dangers DPS officers face every day as they protect and serve the State of Arizona.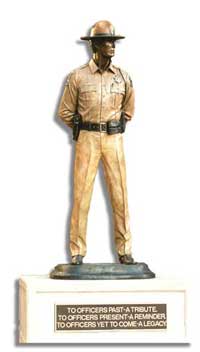 DPS Officer Timothy Huffman was killed in the line of duty May 6, 2013 by a distracted driver. His name will be unveiled on the DPS memorial with his family. According to the National Law Enforcement Officers Memorial Fund (NLEOMF), Arizona has lost 256 officers since its statehood, and 351 fallen heroes will be added to the memorial in Washington during National Police Week. As of today, officer fatalities are up 23 percent nationwide and trends show most law enforcement deaths occurred primarily from gunfire or traffic accidents.

Governor Janice Brewer, DPS Director Robert Halliday and AHPA President Jimmy Chavez will speak at the ceremony. A fly-over by aviation professionals, DPS officers singing the National Anthem and law enforcement bagpipers will add powerful sounds and visuals to the commemorative day.

The ceremony will take place at the DPS Officer Memorial Statue located at 2102 W. Encanto Boulevard in Phoenix.