APRIL 30, 2014
Desert Foothills Theater presents "A Midsummer Night's Dream" May 2 - 11
SCOTTSDALE – Desert Foothills Theater (DFT), a division of the Foothills Community Foundation, presents a special youth theatre production of "A Midsummer Night's Dream" running Friday, May 2 through Sunday, May 11 at the FCF-Holland Cabaret Theater, 34250 N. 60th St., Building B, in north Scottsdale.

Directed by Amy Serafin, the DFT production of William Shakespeare's comedy follows the (mis)adventures of assorted royals, wood spirits, and actors over the course of one long night in a mysterious forest. DFT's production features 24 actors ranging in age from eight to 19 years old.

"This is not your musty, dusty Shakespeare," said Serafin. "It's the timeless tale re-imagined, re-thought, and re-envisioned for today's audience. It's a fresh new take, brought to life by an exciting and energetic young cast and crew who challenge you to put aside your notions of what it means to be a 'classic.'"

From the start, Serafin knew that in order for the production to be successful, her cast needed to enjoy the experience and understand Shakespeare.

"The biggest challenge was getting the kids over the fear of Shakespeare's language and embracing the dialogue," Serafin said. "There is much more work with Shakespeare versus contemporary plays. Actors not only have to translate the 400 year-old language and poetry, but they must put the dialogue in their own words. If the actors are just speaking lines and they don't understand what they are saying, then the audience won't understand it either. The actors have to know what they are saying and why they are saying it to bring the story and characters to life."

Another challenge related to making the production youthful, current and fun. "We have incorporated cell phones, iPods and even a light saber in this production to make it more modern and relatable to everyone," she said.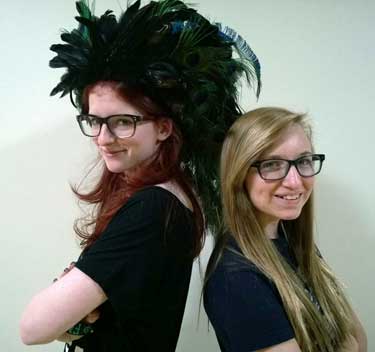 Serafin said it has been thrilling to watch "the kids genuinely falling in love with Shakespeare" and heartwarming to watch the camaraderie amongst the cast. She cited an example of how Leanne Brodie, 14, of north Phoenix, who plays the character Snout, helped 19-year-old Samantha Nicole Yedor, of Scottsdale, by donating feathers from her pet peacock, Fred, for Yedor's headpiece.

"Samantha plays Oberon, the Fairy King, and she is also a costume designer. We wanted Oberon to be more like a rooster or peacock with his plume of feathers and that's when we learned that Leanne has two peacocks, Fred and Ginger, at home. The feathers fall off naturally and she was kind enough to collect them from Fred. The headpiece is just incredible!"

Serafin encourages people of all ages to open their minds and come to the show prepared to laugh. "It is not just Shakespeare. It truly is a magical, light-hearted and fun play acted by some hard-working and talented young actors," she said.

Performances are Fri., May 2 and May 9 at 7:30 p.m.; Sat., May 3 at 2 p.m.; Sat. May 10 at 7:30 p.m. and Sun., May 4 and May 11 at 2 p.m. Tickets range from $15 to $21 for adults and $11 to $16 for youth and students. A special 2 p.m. performance featuring a Q&A after the show will take place on Sun., May 4. Group sale discounts available for groups of 10 or more. Visit www.dftheater.org or call (480) 488-1981.