BY LINDA BENTLEY | APRIL 23, 2014
Vice mayor 0 for 2 on zoning ordinance recommendations
'There isn't any logic or rationale to how it's written'
CAVE CREEK – During the April 17 planning commission meeting, Planning Director Ian Cordwell said he wasn't sure when the next meeting was going to be since he had no cases currently scheduled.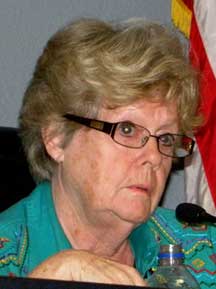 With extensive changes to the minutes from the March 20 meeting submitted by Vice Chair Rae Iverson (l) and Commissioner Bob Voris, Chairman Ted Bryda said approval would be continued to the next meeting.

Cordwell introduced the two text amendments to the zoning ordinance on the agenda.

He explained that citizens often provide input for changes to the zoning ordinance and these changes were based on input from Vice Mayor Adam Trenk.

He said staff also worked with the building official in bringing the proposed changes forward.

The first text amendment was specific to Chapter 2, Section 2.4, Subsection B, relating to fences and walls.

The amendment would have increased the permit height of walls from four feet measured from the bottom of footing to five and a half feet measured from grade.

Trenk also proposed eliminating the permit requirement for any fence when the fence is placed in excess of 25 feet from the property line.

According to Cordwell, Trenk's reasoning was these are typically projects people like to do on weekends when they are unable to obtain a permit.

Currently, the town requires a zoning clearance review for all fences and walls to ensure proper location and requires a building permit if the fence or wall measures four feet or greater measured from the bottom of the footing.

Inspections are subsequently made to ensure proper location, setback from property line/easement boundary and to verify the footing construction for walls is adequate.

Commissioner Dan Baxley stated it was then conceivable to build a fence around a person's entire property without a permit and asked if there were definitions for fence and wall.

Cordwell stated the definitions were in the building code.

Baxley said he was not comfortable with the definitions being located elsewhere.

Bryda stated a person would be able to erect a 16-foot wall around their property if it was within the 25-foot setback.

Cordwell said the maximum wall height is six feet.

Bryda stated, "So I wouldn't have to do rebar and concrete."

Cordwell responded, "Correct."

Iverson said she was concerned about doing away with oversight that could allow for substandard structures and flooding issues, while not having the definitions of fence and wall at hand could cause confusion.

During public comment, Fred Osmon said, "I don't understand the benefit to this."

Cordwell stated it was from citizens' input gathered by Trenk.

Osmon stated, "This doesn't appear to be a good idea at all."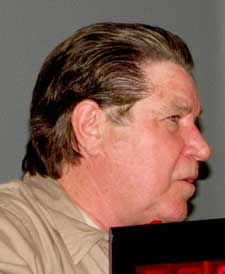 Commissioner Ray Fontaine (l), who moved to recommend approval of the text amendment, said it was his impression the motivation for the proposed amendment related to equestrian properties.

Iverson, who seconded the motion, stated she might agree if indeed it only pertained to horse properties, but said, "That's not what the ordinance says."

She went on to say, "It's hard to agree with the proposed changes – I don't see any great benefit to be gained."

Voris recommended an amendment to the motion and passed out written changes to the commission.

However, his amendment died due to lack of a second.

Iverson questioned measuring walls from the bottom of the footing rather than from grade.

Associate Planner Luke Kautzman said that was consistent with the building code.

Baxley said the motivation behind changes is usually sound but the "devil is in the details" and, due to the questions raised, he was not going to support the text amendment.

With Commissioner John Ford absent, the motion failed by a vote of 2-4 with Fontaine and Voris voting yes.

The second case dealt with sections of the sign ordinance, which Kautzman said was previously changed following input from business owners, whereas monument signs and business signs were increased in size and the time limit was removed for portable signs.

The text changes being recommended included prohibiting advertising of federally prohibited drugs on signs by symbol or design.

Fontaine asked about banner signs and their duration.

Cordwell stated they were allowed on a temporary basis but that was not in the ordinance being addressed.

Iverson said she was under the impression portable signs weren't always allowed but were allowed to proliferate when the economy went bad.

During public comment, Janelle Haff said she was unaware until recently that there was a marijuana dispensary in town but urged the town to get a legal opinion before imposing on the free speech rights of the business owner without a "compelling reason."

Bill Allen said, "Like other ordinances in town, if you're not going to enforce it, don't pass it. Don't clutter up the ordinances with things that are unnecessary."

Bob Moore stated the temporary town manager once said it was only Moore and his wife that were protesting the signs, pointing out that many more have spoken out about the excessive signs and banners.

He asked, "How in the world are we going to enforce these things?" and said, "I see no reason. This is not the approach that is going to work."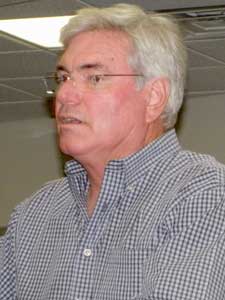 Roger Kohrs (r) balked at the amendment to only allow sandwich boards 20 days a month and said, "No one wants these things in town," noting the town doesn't have the will to enforce the ordinance.

He said instead the town should revise the ordinance to eliminate them altogether.

Fred Osmon said he thought he was the only one who didn't like them. He said the town had a much stricter sign code in 1994.

He said Cave Creek is unique because it is a "strip town."

"My concern is, what is going on is going to change our town," said Osmon, and urged the commission to read his guest editorial in Sonoran News.

Bryda asked Osmon, a retired architect, to write down his suggestions and submit them to him.

Fontaine moved to recommend approval of the text amendment and stated the cyclical nature of the economy made the sign situation less visible during times of high vacancies.

He also said he had concerns that freedom of speech should apply to all businesses and a liquidation sale [banners] shouldn't go on for two years.

Commissioner Eileen Wright, who seconded the motion, provided the commission with a handout and stated she has been looking into sandwich signs.

She said on a normal non-event weekend there were over 80 in addition to other things like clothes racks.

Wright suggested allowing the signs Wednesday through Sunday to meet the 20-day restriction, but said the ordinance was impossible to enforce.

Voris stated it was an enforcement issue and said, "There isn't any logic or rationale to how it's written."

Iverson said she couldn't recommend the text amendment for council approval and asked staff to bring back the entire sign ordinance for review.

Baxley stated, "Once again, the devil is in the details," and said the vice mayor may have been well motivated but the ordinance was unenforceable.

Stating it was a tough situation for the town marshal and staff but with portable signs allowed in all commercial zones, including Commercial Buffer areas and the General Commercial zone along Carefree Highway, Baxley asked, "Are we going to be a town of portable signs?"

He said, "I don't think this direction is the direction we want to go. I'm not going to support."

Bryda pointed out enforcement was a town issue, rather than an ordinance problem.

The motion failed unanimously.