BY LINDA BENTLEY | APRIL 23, 2014
Recall process underway
Recall target Adam Trenk accused former town manager and recall supporters of fraud, considers recall election a 'sideshow'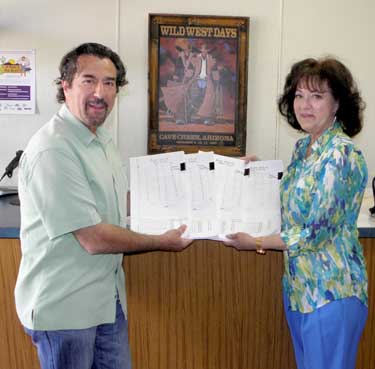 Cave Creek Caring Citizens Chair Hani Saba and Treasurer Susan Clancy turned in far more than enough signatures on Wednesday, April 16 to secure a recall election against Vice Mayor Adam Trenk and councilmen Mike Durkin, Reg Monachino and Charles Spitzer.
Photo by Linda Bentley




CAVE CREEK – On Wednesday, April 16, Cave Creek Caring Citizens Political Action Committee (PAC) Chair Hani Saba and Treasurer Susan Clancy delivered their recall petition signatures to Town Clerk Carrie Dyrek.

Dyrek, assisted by Assistant Planner Marie Carsia, tabulated a preliminary signature count and receipt for each of the recalled candidates before processing the petitions to be forwarded to Maricopa County for signature verification.

Although the PAC only needed 293 signatures to recall each of the four councilmen, they turned in 488 signatures to recall Vice Mayor Adam Trenk, 420 for Councilman Mike Durkin, 456 for Councilman Reg Monachino and 466 for Councilman Charles Spitzer.

According to Saba and Clancy, they had at least double the number of citizens who supported the recall but wouldn't sign the recall petitions because they feared retaliation against their businesses by the councilmen being recalled, "especially Trenk."

However, those same people said they would definitely show up to vote them out when the recall hits the ballot.

ASU professor Kerry Smith, chair of Citizens Concerned for Cave Creek, a political action committee formed to recall councilmen Ernie Bunch and Thomas McGuire, spoke to Dyrek on Thursday to say they would not be turning in any petition signatures.

In January, Sara and John Vannucci filed a statement of organization for Chronicle News Bulletin 2014, a political action committee organized to influence the result of a recall election. The statement of organization says its sponsoring organization is Desert Foothills Chronicle, Inc., a nonprofit organization formed in August 2013 offering a subscription e-mail service that appears to be for the primary purpose of venting their personal hostility against Sonoran News.

According to a Scottsdale newspaper, Adam Trenk responded to the recall via e-mail to state: "It is shameful that the disgruntled former manager and those close to him have resorted to petition fraud in their quest to oppose progress and force this recall."

Trenk went on to state, "I fully expect the bulk of the petitions to be thrown out, and for the residents of Cave Creek to be spared the tens of thousands of dollars that would be wasted on a recall sideshow."

The PAC has already verified the petition signatures it has collected and is confident they have far more than necessary to hold a recall election.

As far as the petition fraud allegation goes, apparently Trenk's statement is enough for reporter Phil Haldeman with zero concern about its accuracy or any details of the alleged fraud.

Haldeman also spells out the next steps of the recall process inaccurately by stating, "The Arizona Secretary of State's Office (SOS) has 10 days to process the petitions …"

The SOS is not involved with the recall.