BY LINDA BENTLEY | APRIL 23, 2014
The emperor's new clothes and Cave Creek's new transparency
It appears Prinzhorn left GHD for reasons unknown, and the company's contracting license was suspended on Jan. 12, 2014

CAVE CREEK – Vice Mayor Adam Trenk continues to tout the transparency of this current council and town administration.

Apparently, only a fool can't see the transparency.

Back around July of last year, Sonoran News submitted a standing records request similar to that made by the Arizona Republic for copies of e-mails to and from Interim Town Manager Rodney Glassman and members of council and staff pertaining to town business.

Although obviously an exaggeration, we were told by staff members Glassman sent out more e-mails in one week than former Town Manager Usama Abujbarah sent out in entire his 14 years as town manager.

To date, we've received not one.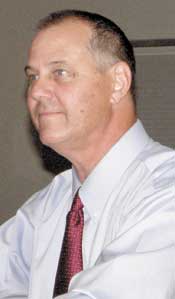 On March 3, I sent a public records request to the town requesting: 1) Copies of any background checks performed for Utilities Manager David Prinzhorn (r), 2) Copies of any notes or documentation that verifications were performed regarding Prinzhorn's references and prior employment, and 3) David Prinzhorn's local Arizona residential Zip Code.

Town Clerk Carrie Dyrek responded on March 10 to say my request was forwarded to the appropriate departments on March 3.

After Town Manager Peter Jankowski informed us the documents needed to go to the town attorney for review, we patiently waited for a response.

On April 15, I sent a message to Dyrek saying it had been over a month since making the request and asked for a status update.

Dyrek stated all the information was compiled and given to the town attorney for review and said she would follow up with them.

Two days later, Town Attorney Fredda Bisman sent Dyrek an e-mail stating, "Attached please find the redacted report to provide to Linda Bentley in response to her public records report (sic)."

Attached was a "certified duplicate of the information contained in the computer storage device of the Department of Transportation, Motor Vehicle Division, in accordance with Arizona Revised Statutes Section 28-444.

It was a copy of Prinzhorn's MVD driver license record for the past five years as of Jan. 23, 2014 with his date of birth, customer number, street address and license number redacted.

So, basically, it told us Prinzhorn was licensed in New York until August 28, 2012 and licensed in Arizona until August 28, 2021.

Why Bisman redacted his date of birth is curious since it's readily available online via court records. And since driver licenses generally expire on the person's birth date, we can assume Prinzhorn's birth date is August 28. Court records place his year of birth in 1956.

So, of all the documents forwarded to Bisman, all she believes is a public record is a redacted report of Prinzhorn's driver license info for the past five years.

We asked for Prinzhorn's Zip Code because we were also informed Prinzhorn lived in the Biltmore Estates area and was buddies with Glassman, who hired Prinzhorn.

Well, 85014, where Prinzhorn lives, is indeed in the Biltmore Estates area near the Biltmore Golf Course.

Glassman lives in the adjacent 85016 Zip Code.

Although Prinzhorn was recently living in New York, Prinzhorn used to live in Peoria, Ariz.

And, in March 1999, at the age of 43, Prinzhorn was cited (Citation # C00045410) for criminal damage/defacing property and had to appear in Peoria Municipal Court.

In April 1999, Prinzhorn reached a plea deal with the county attorney, who agreed to dismiss the criminal charge against Prinzhorn, providing he successfully complete a diversion program, as per A.R.S. §11-361, which states: "For the purposes of this article, unless the context otherwise requires, 'program' means a special supervision program in which the county attorney of a participating county may divert or defer, before a guilty plea or a trial, the prosecution of a person who is accused of committing a crime …"

Prinzhorn completed the diversion program and charges against him were subsequently dismissed in October 1999.

While Prinzhorn lists his civil engineering license with the Arizona Board of Technical Registration with a Little Falls, N.Y. address, he appeared to have been working in Phoenix until at least November 2013.

Prinzhorn was managing GHD Environmental Services, Inc. in Phoenix since 2004, a contract subgroup of GHD, a global engineer consulting firm, and was listed as a vice president and the corporation's qualifying party with the Arizona Registrar of Contractors until Nov. 12, 2013.

It appears Prinzhorn left GHD for reasons unknown, and the company's contracting license was suspended on Jan. 12, 2014 for lack of a qualifying party.

Even though he appears to be living in Arizona, Prinzhorn continues to use his Little Falls, N.Y. address for his licensed credentials and has participated in a public hearing for the town of Manheim, N.Y.'s 2014 fire contract and town budget.

There are more rumors buzzing at town hall. Time will tell if they're true and Sonoran News will report if they are.