BY LINDA BENTLEY | APRIL 23, 2014
Carefree Church GP amendment/rezoning request continued to June
The changes were introduced by Building Official Mike Baxley, who said a member of council came to him to propose the changes
CAVE CREEK – Monday night's Call to the Public brought Eileen Wright to the podium to say she spoke with Mark Russell, the owner of Oregano's, Saturday evening and he paid the town a compliment by saying working with the town has been the best experience he's ever had opening any of his restaurants.

Korina Riggin followed to tell council the Cave Creek Trail Run went very well with 309 participants and 50 volunteers.

She said people are pleased the town is making progress toward the big picture of acquiring additional open space.

An April 17 article in Runner's World featured the race and declared Cave Creek's trails in Spur Cross Ranch as "Trail of the Month."

Announcing next year's race will be on April 4, Riggin said the publicity will have a long-term positive effect on the community.

Three members of Girl Scout Troop 1838 told council they would like to restore Desert Awareness Park as a project, beginning with painting the pylons.

The girls said they enjoy the park and it is fun for them to go there.

Mayor Vincent Francia applauded their interest and pointed out Town Manager Peter Jankowski, whom they should contact with any questions.

Francia announced that he, Vice Mayor Trenk and Jankowski will be meeting with the state land commissioner this Thursday, at her request, to discuss the open space land the town plans to acquire.

He then moved two items, Carefree Church's applications for a general plan amendment and rezoning, to the front of the agenda, stating the applicant has requested a continuance to the June 16 meeting.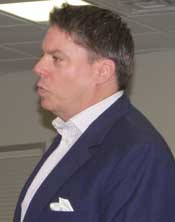 As part of the public hearing process, Carson Bise (r), president of TischlerBise, Inc., presented "round two" of the 225-day process to adopt the proposed development fees.

Bise stated the fees presented were based on just two categories, general government and parks and the fee schedules for water and wastewater would be presented separately.

During public comment, Greg Hunt told council his sister was planning to relocate to Cave Creek and looked at a lot that was $76,000.

He said the initial fee was $18,000 for a ¾ inch water meter and then the fee for the permit to install the meter was $5,000.

He mentioned other fees and costs involved and said it would cost $38,500 in development fees before ever starting construction.

He then said his sister looked at another lot for $76,000 that does not have town water.

Hunt said even though she would have to drill her own well, the town still wanted to collect $18,000 for water development fees.

The mayor questioned staff as to why, if a person doesn't have access to service, they would be charged.

Bise said he strongly advised against charging development fees if there's not a benefit to the person being charged.

Francia said the town needed to take a closer look at that policy.

Vice Mayor Adam Trenk said one of the first conversations he had with the new town manager was about development fees, stating development wasn't viable because the fees are so high.

Town Attorney Gary Birnbaum explained the purpose of development fees, pointing out the fees are based on projections of the cost of future needs, divided by the number of future developments.

He said they are completely different from what current taxes cover.

Birnbaum cautioned if they chose to lower the fees, they would be shifting the burden of future costs to citizens of the town.

In other words, he said decreasing fees for Party A would increase the costs for Party B.

The agenda item was informational and not an action item.

Council voted unanimously to recommend approval for a permanent extension of premises for the Buffalo Chip's liquor license to include a fenced-in area outside along Cave Creek Road.

Birnbaum introduced the next item, which was the second reading of an ordinance that amends the use of .5 percent of the tax for Spur Cross Conservation Area maintenance and repairs so it would allow for half of that revenue accumulated over and above that needed for maintenance to be used toward the acquisition of open space land and the other half to go toward the general fund.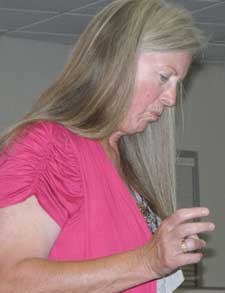 During public comment, a very confused Janelle Smith-Haff (l) said she didn't understand what they were doing based on her reading of the ordinances that set up the tax. She said there could be unexpected consequences and asked council to consider adding a sunset clause.

Councilman Charles Spitzer explained the half-cent tax generates more money than required and it cannot be sunsetted because it's needed.

Jankowski explained the town pays the county $18,000 per month for maintenance and repairs and the town has accumulated over $400,000 in excess of what's needed.

Birnbaum stated a sunset clause would do the opposite of what Smith-Haff wants.

He further explained the purpose of the amendment by saying whatever money is collected must first go toward maintenance and repairs for Spur Cross. If revenue is higher than needed, it allows the excess to be used by the town.

Birnbaum stated council restricted itself by saying if there is extra money one-half would go toward open space and the rest to the town.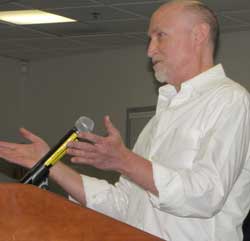 Mark Lipsky (r), who just moved back to Cave Creek after being away for six years, said, "People pushed hard for the acquisition of Spur Cross," and questioned council's "attempt to grab half the money for what council wants."

He asked who determined if there's excess money.

He said, "I'm shocked to see this mayor and council go after this money."

Birnbaum explained that Spur Cross is owned in part by the town, county and state and an IGA (intergovernmental agreement) establishes each of the entities' areas of responsibilities.

He said, "Today there is an excess of revenue over expenses."

If the town did not amend the ordinance, the money could not be used.

David Smith said it has nothing to do with unexpected consequences and the money could only be used after maintenance expenses were paid.

Councilman Ernie Bunch moved to approve the second reading and said, "In 1999 when excess sales tax was added, no one anticipated Walmart or Oregano's."

He said it was excess after expenses that would help acquire additional open space.

Trenk who seconded the motion requested adding the word "lands" after open space in text.

It was reiterated that this involved only revenues in excess of funds needed to maintain Spur Cross, while the alternative meant the money would just sit there unused.

Councilman Charles Spitzer said he was a lower tax kind of guy but felt this was a good compromise.

Francia said the half cent is set aside first for Spur Cross, noting saving the 2,500-acre Spur Cross was noble. He said, "Let's try to save 4,000 more acres."

The second reading passed unanimously.

Council also unanimously passed amendments to Town Code Building Regulations pertaining to work exempt from permits.

The changes were introduced by Building Official Mike Baxley, who said a member of council came to him to propose the changes, which would remove the language: "Fences not over four feet (1219mm) high as measured from bottom of footing," and replace it with: 2.a) "Open fences not capable of retaining earth such as pipe rail, chain link, barbed wire, split rail or of similar construction up to 5 feet 6 inches tall as measured from grade, except for any pool barrier or portion thereof; and 2.b) "Solid fences of any material that does not retain earth up to 4 feet tall as measured from grade, except for any pool barrier or portion thereof."

Trenk, in moving to pass the amendment, said he was the member of council who requested the change.

Bunch, who seconded the motion, said he really liked 2a but had a problem with 2b and stated he was concerned about safety.

Bunch said people like to sit on fences and was concerned about their structural integrity.

Trenk agreed to modify 2.b by changing the language to read "as measured from bottom of footing" rather than from grade, which satisfied Bunch's concerns.

On April 17, similar amendments were presented to the planning commission, which voted against the change by a vote of 2-4.

Council voted unanimously to approve the replacement of a Dodge Durango with 140,000 miles with the purchase of a Chevy Tahoe for Town Marshal Adam Stein at a cost not to exceed $34,863.

Stein said he guessed the trade-in value for the Durango would be around $3,000, which was not deducted from the purchase price. Stein said he believes the trade-in value of the Durango should be enough to equip the Tahoe as a law enforcement vehicle.