My View
BY DON SORCHYCH | APRIL 23, 2014

Hunting – Part One
Until I got older, hunting had always been my most popular pastime. Fishing is still an ardent pastime when I have time to do it. I got a Christmas present of a Red Ryder BB gun when I was six, a single shot .22 when I was eight, a bolt action single shot .410 gauge shotgun when I was ten and a .12 gauge pump shotgun when I was 11.

At an early age my mentor was Steve Schmaus. Steve had been a waterfowl market hunter until he was retired by serious sinus problems. He showed the visual after effect with a hole on each side of his nose due to rather primitive operations at that time. As a consequence of his affliction he had to sleep in an armchair and he got up at 4 a.m. From that early hour and beyond you could hear the pop of his single shot .22 which had been bored out due to having fired tens of thousand of rounds of rat shot through the barrel. Steve lived with his spinster niece schoolteacher named Ms. Lang. They kept an immaculate house, lawn and garden. He hated English sparrows, crows, blackbirds, cowbirds and blue jays. He shot any rat, mouse or rabbit that invaded his yard to protect the garden.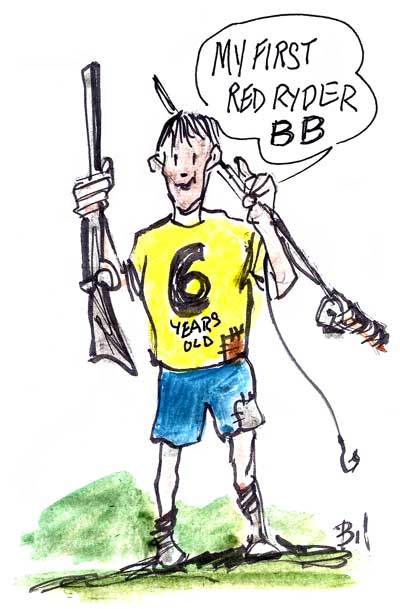 He gave a pass to robins, swallows, martins, cardinals, doves and most woodpeckers as long as their behaviors suited him. He built a huge martin house on a telephone poll with myriad "apartments." He lined the edges of the bird nests with steel to deflect the many shots he took at sparrows that tried to nest there.

Steve kept a daily journal of how many of each species he shot. To increase his yield he built a small shed where he kept his garden and lawn tools. He drilled a small hole facing a circle he cut in his lawn. He would fill the circle with cracked corn and sit in his shed with his .22 aimed at the circle and when a crowd of sparrows gathered to eat, he would fire. His record was 18 sparrows killed or disabled in one shot. He would then plant the dead birds in his garden for fertilizer. His journal registered 85,000 sparrows killed by the time I graduated from high school in 1949. I don't know about the other species.

I was always filled with pride when he handed me the rifle to shoot. When I got my first firearms, my Dad demanded to be with me if I was armed. Dad had no experience with hunting; it was all about safety and his serious discipline in gun handling served me for a lifetime.

However, on my mother's side, most men in the family were hunters, trappers and fishermen. My uncle Ed Hall was married to my mother's sister Inez, or "Nanny." Ed was gassed in WWI and was advised to work outside and he did. Illinois had a lengthy waterfowl season and Ed took people out on day hunts, mostly professional men from Chicago. As result, it was his happiest time of the year with a bulging pocket full of money.

He both owned and leased prime duck hunting property on Senachwine Lake near Henry, Ill.
When I was a teenager, I went duck hunting with Uncle Ed's two sons, Mervin (Doc) and Lyle. Doc was the oldest and he took charge. He was an expert duck caller and a deadly shot. One day when we were in a blind, he called ducks and knowing how quickly ducks flare from a face, he pushed both our faces down in the mud as they came toward us, grabbed his shotgun and three quick shots later there were three dead ducks bobbing in the water. Lyle and I received a tongue lashing and muddy faces, but went on to get our limit of 15 ducks, which was the law in those days.

Following duck season, Ed and his sons ran a trap line for muskrats and mink. Ed, Nanny and their daughters, Lois and Peggy, operated a resort on Senachwine Lake. I spent my summer there when I was 10 and was in heaven, living in a bathing suit, netting minnows, fishing and sleeping on the couch in their store where they rented boats and bungalows and sold bait.

What was surprising about my teenage years is there were so few outdoorsmen of my age even though Depue, Ill. was a town of 2,500 and essentially a rural community. So my hunting buddy became Glen (Junie) Glover even though he was five years my senior. Deer had not yet populated Illinois from Wisconsin as they have since so we hunted pheasants, rabbits, squirrels, quail and waterfowl. In most of our adventures we hiked to our chosen location but he had a motorcycle years before I got a car at age 16. Once we rode double on his motorcycle to visit friends in Missouri and hunted rabbits. I came back with lots of rabbits and a baby pointer our hosts gave me. We also hunted morel mushrooms when they came up in late April and early May.

During my teen age years, Joe Peterson, the manager of the local gun club, who managed most of Lake Depue, hired me to build blinds, sow millet for duck food and best of all to guide hunt club members in their quest for ducks and geese. Good money and tips for a kid.