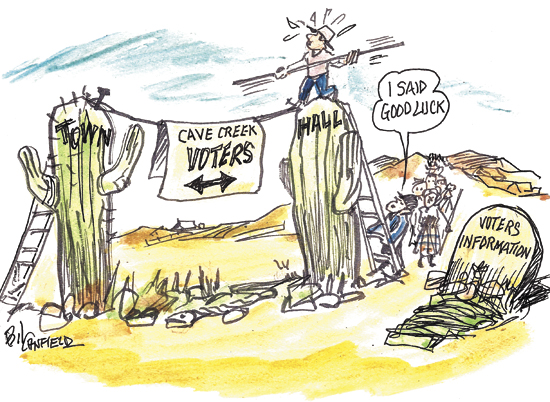 We salute and thank volunteers
The word volunteer was first recorded in the 1630s. During the 19th century America experienced a surge in volunteerism. Women volunteered to aid wounded soldiers in the Civil War. The Red Cross in 1881 provided volunteers for disaster relief.

Now, a couple of centuries later, volunteerism is thriving, especially in Cave Creek.

Take the recently held Fiesta Days and Cave Creek Pro Rodeo. It's a great community pride event. Like Wild West Days it combines attracting new people to the Historic Core businesses with the right touch of cowboy rowdy-ism, promoting the "I Had Fun in Cave Creek" buzz.
These two events, like so many others in town, happen because of volunteers. Numerous volunteers.

Volunteers are the pulse of the Cave Creek Food Bank, Cave Creek Museum, Footills Caring Corps, Visitors' Center, Taste of Cave Creek, Desert Awareness Park, Open Space Trail Run and Open Space Committee, Cactus Classic Bike Event and the Christmas Pageant, to name a few.

Volunteers not only donate their time but also supply ideas and energy, revitalizing these events year-to-year while spreading the word person-to-person. Nothing quite like that real-life, real-person testimonial.

Cave Creek citizens count their blessings. From dawn's first light view of pure desert and native wildlife to nighttime's star-studded skies (Yes, there is a Milky Way), we don't take this place we call home for granted.

Nor do we take for granted our volunteers. We salute and thank them.

Mayor Vincent Francia
Cave Creek
Transparency
The ethically challenged Scottsdale resident Adam Trenk keeps advertising one of his greatest accomplishments is improved transparency in town hall relative to "the previous administration". Let's take a closer look at that claim:

Some 75 percent of all Trenk's routine council meetings to date have been accompanied by a secret 'executive session'. This compared to less than 20 percent of the meetings of "the previous administration". To some extent, this has to do with the lawsuits caused solely by Trenk and the bobbleheads reckless firing of the Town Manager but basically it translates to mean that much of the routine business conducted by this slate (Trenk, Monachino, Spitzer and Durkin) has been done illegally in secret meetings because these guys don't want the public involved in their business. This was never more evident than their wacky hiring process for the new Town Manager that backfired on them anyway, their full court press attempt to abandon the General Plan trails, or their firing the Town Manger and hiring Trenk's totally unqualified buddy Glassman to replace him with an exorbitant salary and benefits.

Trenk peddles the "open office hours" as improved transparency. Attend one of these sessions and watch Trenk constantly diddle with his cell phone and occasionally listen to whatever issue is presented. Has anyone actually seen results from the repetitive complaints about noise, parking, signage the deplorable appearance of the town core – or any other issue? What's transparent about that? Trenk is so transparent that he even keeps his home address secret.
Trenk's biggest transparency charade is his "formalized records request process" which means you ain't getting what you requested in this lifetime. These public documents have always been available while you waited, or in hours or, worst case, in a very few days. Now the requests go the attorney or somewhere and it takes months if you get anything at all. Trenk and his bobbleheads are desperately trying to keep secret their own emails regarding town business (for good reason!) and they have made the public records request process totally unresponsive and corrupt by design because they want it that way. None of them can stand the light of day.
What a sham. Secrecy is their hallmark and soon to be their legacy.

Bob Williams
Cave Creek
Budget considerations
Members of the Carefree Town Council, Good morning.

As you gather later today to discuss and deliberate on the budget for the upcoming fiscal year, please give careful thought to one specific item. The proposed expansion of Town Hall is a costly expense, completely unnecessary in any near-term scenario and being proposed under the misleading pretense of an urgent necessity. There is absolutely no urgency to this proposed project.

The current leased space in the Klemp facility is far more than adequate to serve the council, and more importantly, the residents of Carefree, as it has for many years past. The existing lease is very favorable to the town, has built-in provision for a favorable renewal past 2020 and the landlord has no desire to increase his holdings of unused and unrented space. Carefree certainly does not need any additional unoccupied retail space. Mr. Klemp knows that better than most.

One would hope the mayor, and the staff under his direction should understand that an unnecessary addition to Town Hall does absolutely nothing to increase the financial strength and retail viability of Carefree. In fact, drawing down reserves by $1.5 million for this project can be argued to affect the complete opposite.

Serving the residents of Carefree should be paramount in the minds of the mayor, the council members and staff. Residents will not be well served by a costly capital project which provides little benefit, does nothing to improve the town's economic viability, and will very likely increase the vacant appearance of another prominent town structure. Rumors of attracting a museum, a micro-brewery and the like are merely illusions until they actually materialize. Such rumors serve only as distractions. I see no evidence to suggest either will become a reality here any time soon.

I sincerely ask that you give this matter careful consideration and not be swayed by the illusion of necessity.

Respectfully,

John Traynor
Carefree
Dear Sir
I recently read an issue of your paper. As a rule I pick up mail from my home and bring it to work. I will always take your paper and put it on my desk where I will flash read it when I have a couple of moments. Your paper was face down when I was attracted to a couple of articles. One article was about immigration officials releasing illegal aliens to sign up for ObamaCare.
That disturbed me. Another was an establishment opening up for friendly treatment. I read the article regarding the asteroid. I was extremely upset about ICE releasing aliens and took it around to my employees. They are conservative and know I am very conservative. An employee finally pointed to the front page headline S'nor 'N Snews April Fools Issue. Absolutely great! Two thumbs up for you! Not many get one over on me. I am a permanent fan from this day forward.

Ken Nessler
Fax
Preserve funding hijack alert
For the first time in 20 years a not-so-subtle movement is underway to hijack voter-approved funds to purchase land for Scottsdale's McDowell Sonoran Preserve.
Spearheaded by two Council members – Virginia Korte and Linda Milhaven – the proposed first step is a moratorium on the purchase of additional land. This would immediately jeopardize the purchase of two strategically located parcels slated for acquisition.
Don't let them get away with this hijacking! Contact the entire City Council TODAY and tell them to keep their money-grabbing fingers out of the people's Preserve cookie jar and complete Preserve acquisitions as mandated by voters!
City Council Phone numbers:
Mayor: 480-312-2433; 480-312-2738 (fax)
Council: 480-312-2550; 480-312-7885 (fax)

One e-mail for all council members: citycouncil@scottsdaleaz.gov

Individual E-Mail addresses:
Mayor W.J. "Jim" Lane: jlane@scottsdaleaz.gov
Councilwoman Virginia Korte: vkorte@scottsdaleaz.gov
Councilwoman Suzanne Klapp: sklapp@scottsdaleaz.gov
Councilman Robert Littlefield: rlittlefield@scottsdaleaz.gov
Councilman Guy Phillips: gphillips@scottsdaleaz.gov
Councilwoman Linda Milhaven: lmilhaven@scottsdaleaz.gov
Councilman Dennis Robbins: drobbins@scottsdaleaz.gov

Summary:
Councilwomen Korte and Milhaven want to freeze Preserve land acquisitions presumably to have money to maintain the Preserve, but none of that money can be used for maintenance, and even if it could, very little would be necessary. We need the council to respect the voter mandate and remove the threat of a moratorium so land acquisitions can continue on schedule.

A Few Facts:
Through 7 voter approved resolutions, citizens have approved the intended Preserve boundary (Recommended Study Boundary or RSB) and a sales tax increase to fund land acquisitions and minimal improvements in the Preserve (trails and trail heads). Language in all the ballot measures prohibits the use of any of the funds for anything other than land purchases and improvements in the Preserve.

The Preserve effort has been very successful, acquiring over 30,000 acres, of the 34,000 acres in the voter approved RSB, and built trails and trail heads all with the available funds. There is about $60M funding capacity left from the voter approved taxes for the Preserve.
Nothing could be more important than buying land because once it is developed it is gone.
Councilwoman Korte claims the reason for a moratorium is to retain funds to "maintain" the Preserve, however, the city attorney told the Council that Preserve funds COULD NOT BE USED FOR MAINTENANCE without voter approval.

Thanks.

Howard Myers
Scottsdale
She's back & I'm not!
"I'm lovin' it", "Have it your way", "Now that's better", slogans that the purveyors of fast food hope create formulated likes increasing their market share. If the slogan is a good one it sometimes works.

In 2008 the President of the United States used Hope & Change, in 2012 the Democrats shouted Forward in conjunction with political naiveté, racial guilt, lies and political chicanery to achieve their re-election goals.

The sloganeers have been hard at work crafting Mrs. Clinton's presidential run with focus groups testing versions of "Have it your way" and the first whispers proved true. I saw my first "I'm ready for Hillary" bumper sticker last night. Suggesting all America's readiness for another narcissistic, left-wing control freak with a bad temper and deeply rooted despise for the military as our president. Well, I'm not and pray America isn't either.

How about a true conservative for a change, now that's better. Ready for Hillary, I'm not!

Randy Edwards
Cave Creek

Female pay equality: Hypocrisy of the Left

On April 11 Diane Rehm, a National Public Radio talk show host with a decidedly liberal bias, spent much of her show decrying the secrecy behind salaries. It seemed to me that her goal was more transparency so that it would easier for females to bring lawsuits on the pay issue. But when a caller to the show asked Diane the amount of her salary she immediately declined to reveal it. This is typical behavior of the Left, transparency for thee but not for me. It reminded me of Senator Finestein's flap over NSA spying; again, OK for thee but not for me. Now I understand the phrase "hypocrisy is the tribute that vice pays to virtue."

Roy Miller
Phoenix
The consequences of contempt?
Holding Eric Holder in contempt! What effect does a contempt finding have on his position? Just what consequences has it had or does it have for Holder? The threat of it certainly has gotten no results in any of the scandals like Fast & Furious, Benghazi, IRS, NSA or anything else, or is there something I'm missing? Furthermore a finding of contempt seems to have had no effect on Eric Holder's position whatsoever. If the House of Representatives has no ability to enforce or for that matter force compliance how does it have any leverage? How does it actually have oversight? How does an oversight committee actually provide oversight without authority of some kind or ability to take action if violations are discovered to have occurred? How is it the Senate has to approve the appointment of the attorney general but, the oversight committee in the House of Representatives, does not have the authority to take unimpeded action (unimpeded by another branch) for infractions and if so how is it done short of impeachment? It is all well and good to make it illegal to lie to congress or withhold evidence but if it does happen what can be done to provide some form of punishment for such acts? So far nothing! Is that because of Reid in the Senate leadership position? However, isn't the real question, how does so much power get in the hands of the Senate leader (perhaps that question should also include the speaker of the house as well)? Can it not currently be seen this government instead of being run by 535 members of congress it seems it is actually run by three members of government one from each of the House of Representatives, (the speaker) Senate, (the Senate leader) and the executive branch (the president). So a total of three instead of the intended 536. With the executive branch securing the most power and power, it seems, over the other two.

Who is naive enough, under the current conditions, to think any move to impeach Holder or Obama will be upheld in the Senate? Harry Reid will not even allow it to get to the floor for a vote unless of course he is absolutely positive it will fail. That goes for anything presented by conservatives. Consequently, any action will have to happen after November's election, if conservatives can take control of the Senate and take the usurped power of Reid away.
If in fact Congress has no enforcement ability it needs to pass some laws to correct this situation. Providing a contingency plan for just such emergencies we are now facing is paramount. However, we all know that could currently not reach the floor of the Senate with Harry Reid there. So again it will have to wait until after November's election. How exactly have we suddenly found ourselves in such a desperate position?

Congress obviously cannot make the required corrections themselves under the current conditions, that fact should be obvious to us all. We citizens (voters) must give them the tools to provide the changes necessary to save this nation. It is up to us, the voters, to help correct these shortcomings of this government. Or do we just want to lay down, surrender and welcome a communistic or fascist state?

Right now the liberal progressives are quite smug with their control of everything. However, what happens when the "other" party is in power (which trust me will happen short of Obama succeeding in a complete and total dictatorship) and the same thing is pulled on them? Should we not look toward the future and fix these shortcomings in our government to preclude such things happening again under either party? If we want to remain a Constitutional Republic with a free enterprise system with liberty and justice for all we damn sure better! Governments have a tendency to become corrupted without considerable oversight. So far our congress has been unable to assert oversight. That in itself is a look into our future, if there are no changes. Is it not?

Don Bitler
Scottsdale
The finish line is near!
The race has been a long and challenging one, but the finish line is near. HB 2078, also known as the Fair Access to Cancer Treatment or FACT Act, is getting its day in the sun with Senate President Andy Biggs hearing the bill before his Rules Committee. If Sen. Biggs' committee passes it, it will go to floor of the Senate for a full vote.

This bill is vitally important to cancer patients who, like me, with the advice and care of their doctor, have decided that the best course of potentially life-saving treatment is by taking oral anti-cancer medications instead of taking traditional IV chemotherapy treatments.

As health insurance plans are currently written, if they cover treatment for cancer, IV chemotherapy is covered under the medical benefit part of the insurance policy; whereas, oral anti-cancer medicines are covered under the pharmacy benefit part of the policy. And, the patient's out-of-pocket costs vary widely between the two parts of the health insurance policy. An IV medicine might cost a small $25 or so co-pay and an oral medicine could reach into the thousands of dollars. For patients already facing many other hardships, not the least of which is the actual cancer diagnosis itself, such added financial burden is tough to bear.

HB2078 would allow insurance companies to treat all cancer patients and the medicines they take equally, essentially paving the way for the best decision pertaining to the course of treatment be the one decided by a patient and their doctor.

In Arizona, we have a just a few large population centers and a spread-out rural population. The distance between rural patients and available treatment centers means that for many, the most convenient and efficient course of treatment may be oral treatment. Add to that the fact many of the newest and most advanced anti-cancer treatments don't have an IV equivalent, means that maintaining the laws and statutes means not providing patients with the best treatment available.

Unfortunately, cancer has touched nearly everyone's life in some way. Help those in your life have affordable access to the most effective treatment option for them. People, it is YOUR life!
Do not sit idly by. Be actively involved in your health decisions.

Please contact Senator Biggs, the other members of his Rules Committee and your own
Senator encouraging them to allow the full Senate to vote and pass HB2078.

Dr. La Verne Abe Harris
Purdue University
Rest easy
One might question most of President Obama's objectives, but one seems clear and successful: to rid the Defense Department of its top people. On his so-called watch, the administration has fired a hundred generals, admirals and high-ranking commanders. This clears out the most experienced and able people, leaving mostly those willing to share Obama's pitiful view of defense.

Putin's romp into Crimea demonstrates to the world his contempt for our fearless leader and NATO. He seems pretty sure the U.S. is now casual about aggression.

This may not have gone unnoticed in China where a multi-million-man army stands ready to walk ashore in California and occupy our west to "liberate" our Chinese citizens.

But rest easy; we'll be ready to reassign and commit Obama's new Defense Department using the ObamaCare Sales Corps with kiosks on the beaches to greet incoming amphibious troops. Coffee and donuts will be served as well as help with paperwork in getting citizenship, free healthcare, unemployment, food stamps, voter registration and scholarships to Harvard.

John P. Brebner
DePere, Wisconsin