APRIL 16, 2014
Scottsdale DAR presents awards to 13 local winners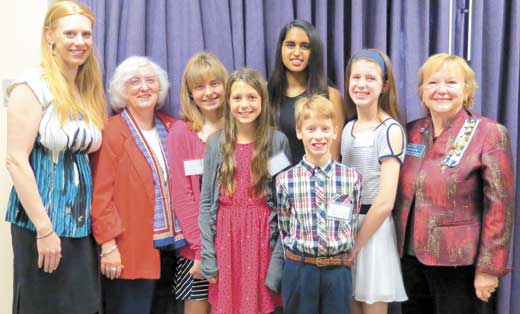 Pictured here are the winners of the American History Essay Contest and the Christopher Columbus Essay Contest. Pictured L-R: Chapter Regent, Katie Paulsen; American History Vice Chairman, Nancy Arnold; Meagan Johnson; Tara Boyd; Anita Ramaswamy; Ryan Taylor; Grace Taylor; Betty Heenan, American History Chairman.


SCOTTSDALE – The Grand Canyon Chapter, National Society Daughters of the American Revolution held their annual awards ceremony on Saturday, March 1st at Chaparral Suites in Scottsdale. Awards were given for Outstanding Teacher of American History, Outstanding Special Education Teacher, DAR Good Citizen, Veterans Outstanding Youth Volunteer, Outstanding Community Service, DAR Youth Citizenship, Historic Preservation Recognition, Women in the Arts Recognition Award, and to students who won the annual American History Essay Contest and Christopher Columbus Essay Contest.

The Veterans Outstanding Youth Volunteer Award was given to Ashley Durham, a senior at Cactus Shadows High School. The award is given in recognition of outstanding or unusual care given to veterans by a Youth, between the ages of 14-21, whom serves as a role model for peers and constantly demonstrates the qualities of leadership. Durham has been actively involved with The Veteran's Heritage Project (VHP) at her school for 4 years, serving as President this year. She has accumulated over 600 hours of service to veterans, which is extraordinary considering her age and schedule. More info on the VHP can be found at Veterans Heritage Project, a 501 (c)(3), at www.VeteransHeritage.org.

Debbie Gaby was this year's recipient of the Community Service Award. Gaby co-founded Sleep America Charities in 2004, she just completed her 8th Celebrity Catwalk for Charity, is co-chair of Phoenix Children's Hospital Dine with Your Dog fundraiser, has been vice-chairman of Florence Crittenton Center's Capital Campaign, in appreciation of which a garden was named in her honor, and was chair of the Major Gifts Committee for Phoenix Zoo's campaign.

Alison King was the recipient of the Historic Preservation Recognition Award. King was the founder of the web site, ModernPhoenix.net and also the Modern Phoenix Home Tour. She has received many awards including several national awards, for her work to preserve Mid-Century Architecture.

Nancy Kay Arnold was this year's recipient of the Women In The Arts Recognition Award. The Women in the Arts Recognition Award is designed to recognize worthy women at the community level for outstanding achievements in the non-performance arts. The recipient is expected to have contributed to her artistic field in an outstanding manner beyond mastery of technique. Arnold's book, 'Patriotic Pups,'has brought America's Founding Fathers to life in a most unusual way, through puppies. She has also designed a "Patriotic Pup" program for children to inspire patriotism and a thirst for knowledge for our American Heritage. She presents this program to schools, and organizations and was invited to host her book signing at Mt. Vernon, the home of George Washington.

She has also been involved with the Mamie Eisenhower Literacy Committee, and served on the Educational Advisory Board of Constituting America. She has spent a lifetime teaching and inspiring her students to become enthusiastic readers and writers, and Nancy has recently completed a second book, "Pioneer Pups," scheduled to be published in late 2014.

The winners of American History Essay Contest for grades 5 through 8 were: Ryan Taylor, 5th Grade, Cochise Elementary School; Tara Boyd, 6th Grade, Benchmark School; 7th Grade, Grace Taylor, Cocopah Middle School; Megan Johnson, 8th Grade, Gary K. Herberger Young Scholar's Academy. The essay topic was the Lives of Children in the American Revolution.

Anita Ramaswamy, 11th Grade, of Chaparral High School, won the Christopher Columbus essay contest, responding to the subject of: How Do Americans View Christopher Columbus and George Washington today? Essays have been sent to the state level for this national contest.

The DAR Good Citizen Award was given to Delainey Wussow. The DAR Good Citizen Award recognizes a high school senior who best exemplifies the characteristics of leadership, service, dependability and patriotism.

The Outstanding Teacher in American History Award was given to James Wisniewski. The purpose of this award is to recognize a notable, full-time teacher of American History (and related fields, such as social studies, government, and citizenship education) in public, private and parochial schools, grades 5–12. Wisniewski teaches social studies at Arcadia High School and has strong knowledge of American history, a patriotic demeanor, and the ability to creatively engage students in their studies and help them excel academically. As a former Marine, Wisniewski incorporates his own experiences into lessons. By relating relevant current events to his teachings in the classroom, Wisniewski helps his high school students gain a better understanding of the world they are soon to inherit.

The Outstanding Special Education Teacher Award was presented to Shelley Soloman. Soloman is a teacher of students with significant multiple disabilities in the Life Skills Center classroom at Hopi Elementary. She implements best practices, and she helps the students set appropriate goals and objectives, based on their individual needs. Soloman is loving, patient, and positive, placing a strong focus on each students' strengths.

The DAR Youth Citizenship Medal was presented to Danya Sherman. This award is presented to a student who fulfills the qualities of honor, service, courage, leadership and patriotism, in grades 5-11.

The Grand Canyon Chapter will hold their next meeting on Saturday, May 10, 2014 at 11:30am. For information on meetings or the DAR, contact Regent, Katie Paulsen, at dargrandcanyon@gmail.com.

The National Society Daughters of the American Revolution was founded in 1890 to promote patriotism, preserve American history, and support better education for our nation's children. Its members are descended from the patriots who won American independence during the Revolutionary War. The DAR is a non-profit, non-political volunteer women's service organization and any woman 18 years or older- regardless of race, religion, or ethnic background- who can prove lineal descent from a patriot of the American Revolution, is eligible for membership. With more than 177,000 membersin approximately 3,000 chapters worldwide, DAR is one of the world's largest and most active service organizations. DAR members volunteer more than 250,000 hours annually to veteran patients, award thousands of dollars in scholarships and financial aid to students, and support schools for underserved children with annual donations exceeding one million dollars. To learn more about the work of today's DAR, visit www.DAR.org, or for more information on the Grand Canyon Chapter of Scottsdale, visit http://grandcanyon.arizonadar.org/.