BY MARIELLE D. MARNE | APRIL 16, 2014
A notable birthday celebration at the Heritage at Carefree and a promise to expand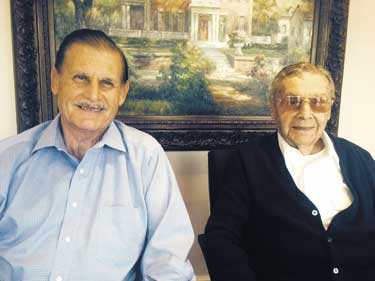 CAREFREE – It's a celebration when anyone has a birthday, and Edgar Totman recently celebrated a big one at the Heritage at Carefree. Totman, who says in his lifetime he has "been there and done that," turned 100 in March. A resident of the retirement living center since December, Totman said, "They had a cake for me."

It's what you can expect at the Heritage – luxury, elegance, comfort and a place that feels like home. "I like it here," Totman offered. "They treat me well. The food is good. And the owner, Donna (Holbura), looks after me. She treats me like a son."

Coming from a retirement community on the west side, Totman sees a huge difference in his quality of care. Before he landed at the Heritage, Totman's son, Dennis, and daughter-in-law, Tina, looked at half a dozen places. Dennis said the Heritage stood out not only for its affordability, but also its proximity to his home. "There were a few places closer, but at the Heritage, my father gets three meals a day, they do his laundry, cleaning (the room) is not extra. They even provide entertainment."

It's a lively place. Holbura brings in music, and arranges shopping and movie outings. It's a place where someone like Totman, who devoted 30 years to his country serving in the Navy, deserves to be. A survivor of the USS Arizona, Totman has earned a carefree retirement, and the Heritage offers just that. With 64 units, it's small enough so that everyone feels like family, yet it's large enough that it can offer amenities residents want. As the population ages, Holbura explained they are planning to add 30 more units at its 36590 N. Pima Rd. location.

So if you are seeking superior senior living accommodations (tiers of care include: independent, assisted living, memory care), phone the Heritage at 480-488-1622 or visit www.heritagecarefree.com for more details.