BY LINDA BENTLEY | APRIL 2, 2014
Trenk facing complaints from state bar, AG and secretary of state
Is his $5,200 to help reelect the disgraced, censured McCain payback for McCain's endorsement in 2013?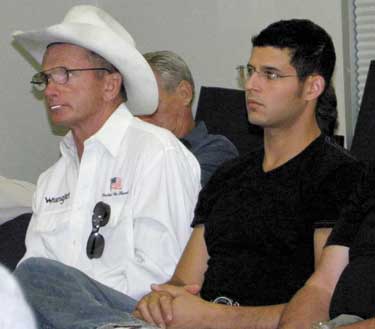 Adam Trenk (r), seated next to T.C. Thorstenson, resigned as statutory agent for Thorstenson after he was caught refusing to recuse himself on property matters Thorstenson had before council. Thorstenson is currently facing criminal charges for indecent exposure, assault and DUI.
Photo by Linda Bentley



CAVE CREEK – On March 19, Hani Saba, treasurer of Cave Creek Caring Citizens political action committee (PAC), filed complaints with the Arizona State Bar as well as the Arizona Attorney General's Office regarding Vice Mayor Adam Trenk signing his own recall petition with James Gandolfini's name, the late actor known for his role as Mafia boss Tony Soprano in the HBO hit series "The Sopranos."

Saba points out signing any name other than one's own to a recall petition is against the law, specifically, A.R.S. § 19-206(B), which states: "A person knowingly signing any name other than his own to a petition, except in a circumstance where he signs for a person, in the presence of and at the specific request of such person, who is incapable of signing his own name, because of physical infirmity or knowingly signing his name more than once for the same recall issue, at one election, or who knowingly is not at the time of signing a qualified elector of this state is guilty of a class 1 misdemeanor."

Trenk subsequently boasted about signing his favorite actor's name on his Facebook page.

In an effort to minimize the recall against him, Trenk refers to it as the Sonoran News toxic recall; despite the fact Sonoran News had nothing to do with initiating the recall.

Saba states in his bar complaint, "This shameful act, committed by the vice mayor of Cave Creek who is also an attorney with the Rose Law Group, is beyond comprehension. He may take the recall initiative lightly, but to commit a crime is another matter."

Saba also points out, while Trenk called the recall effort against him a "joke," it is the constitutional right for any citizen, organized group or PAC to recall any elected official in the state of Arizona.

Meanwhile, P.J. Janik, an investigator from the Arizona Attorney General's Office responded by stating they have created a "duty agent" file on the case and because Trenk is an elected official he should be held to a higher standard.

Janik suggested the PAC also file complaints with the local prosecutor, the county attorney's office and the secretary of state's office.

When Trenk was running for council he secured an endorsement from Sen. John McCain, which many thought odd since he moved and voted to oust the town manager and replace him with Interim Town Manager Rodney Glassman, McCain's Democrat opponent in November 2010.

Now it appears he may have "earned" that endorsement for $5,200, the price he paid for himself and his wife Luisa to host a reception on April 24 at the Ritz Carlton to benefit McCain's reelection.

When Cave Creek resident Rob Papineau challenged Trenk in court from being on the ballot, since he was not a Cave Creek resident for one year prior to the election date, the judge ruled in Trenk's favor, stating he had the intent to live in Cave Creek, not exactly what statute requires.

However, it appears Trenk still doesn't live in Cave Creek, a requirement for serving on council, but rather in Scottsdale, as he admitted in court prior to being elected and as confirmed by his neighbors in Scottsdale.

The house he purchased on Gunsight Road in Cave Creek, which was purchased months shy of the one year residency requirement, was apparently never occupied by Trenk, who has since sold the property.

The PAC believes it currently has more than enough valid signatures to force a recall election against Trenk but said it will continue collecting signatures for the recall of Trenk and councilmen Mike Durkin, Reg Monachino and Charles Spitzer until the deadline in mid April.