MARCH 26, 2014
Arizona Game and Fish Outdoor Expo Saturday, March 28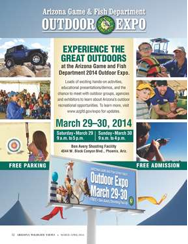 PHOENIX – The gates open at 9 a.m. on Saturday, March 28 for the two-day Arizona Game and Fish Outdoor Expo at the Ben Avery Shooting Facility in Phoenix. Admission and parking are free. There is a nominal fee of $5 or less for some shooting sports (.22 rifles, shotguns, pistols).

Join us for this day of family fun, where there's something to interest and intrigue everyone.

• NEW - Kayaking on Lake Paddlemore (3 types of kayaks)
• Catch-and-release fishing for kids with free souvenir photo
• Try out shotguns, pistols, rifles, black powder firearms, and more (adults and youngsters)
• Archery target shooting
• Cowboy Mounted Shooting competitions
• Rock crawlers – OHVs – ATVs
• Hawks, reptiles, small mammals and other critters
• Live presentations on birds of prey, urban fishing, reptiles
• Fishing pro demonstrations
• Boating and safety exhibits
• Hunting dog presentation
• Navigate a field course
• Food, beverage and concessions for sale by vendors
• 150 exhibitors – outdoor recreation, conservation groups, displays by firearm manufacturers, and more

Concessionaires will have food and beverages available for purchase, and many accept only cash. There is a nominal charge for ammunition at some of the target shooting venues.
Expo hours are 9 a.m. to 5 p.m. on Saturday, March 29, and 9 a.m. to 4 p.m. on Sunday, March 30. The 2014 Outdoor Expo is easy to get to, located on Carefree Highway, about 1/2 mile west of I-17 in Phoenix.

Gold sponsors of this year's Outdoor Expo are Cabela's, Arizona State Credit Union and Waste Management. Silver sponsors are Iron City-Arizona's Polaris Dealer, Arizona State Parks, AWC Silencers, Mule Deer Foundation, NRA Sports, Sportsman's Warehouse, U.S. Sportsman's Alliance Foundation and Weatherby Foundation International.

For more information, visit www.azgfd.gov/expo.