MARCH 26, 2014
Ron Welch new Director of Retail Operations for Karsten's Ace Hardware
CAREFREE – David Karsten, owner of Karsten's Ace Hardware, recently announced the promotion of Ron Welch to Director of Retail Operations.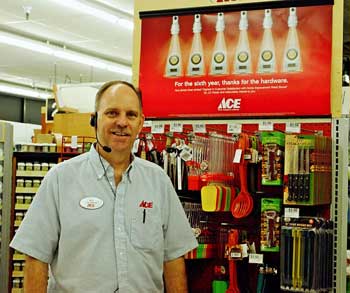 Welch will oversee Karsten's Ace Hardware's Valley locations in Phoenix, Carefree, and Goodyear. A valued member of the Karsten's team for the past six years, Welch has served as the Carefree store manager for the past 4 ½ years.

The family-owned hardware store's recent growth, and future plans, facilitated the need for a new director position. "Ron has been representing Karsten's out in our community as well as volunteering his time to numerous charitable organizations. It gives me great pleasure to announce his promotion," said Karsten.

Welch will oversee store managers and the inventory manager at each location. "My goals have always been centered around helping others both at work and in the community. In this new position I will continue to share my knowledge, provide an amazing customer experience, and help meet our associates' needs," said Welch.

Ron Welch is a familiar face in the Northeast Valley. He serves on the Board of Directors of the Carefree/Cave Creek Chamber of Commerce, and is heavily involved in the Carefree Christmas Festival, among others.

For information, contact Dave Karsten, Karsten's Ace, 28220 N. Tatum Boulevard in Phoenix. Or, call 480-513-7020.