BY LINDA BENTLEY | MARCH 19, 2014
Hogs 'N Horses owner arrested on variety of charges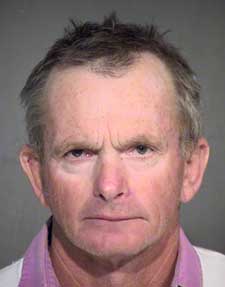 CAVE CREEK – Collin Leroy "T.C." Thorstenson, 57, owner of the Hogs 'N Horses Saloon located at 6705 E. Cave Creek Road, Cave Creek, was arrested on Sunday, March 9 by Maricopa County Sheriff's deputies in the wee hours of the morning on charges of indecent exposure and assault – touched to injure.

He was charged separately for three DUIs, ranging from impaired to the slightest degree to DUI with blood alcohol content of .15 or over.

All charges are misdemeanors.

Thorstenson was booked into Maricopa County Jail but was released on bond later that same day.

According to MCSO, dispatch received a 911 call at around 3:30 a.m. from a very distraught woman.

When deputies arrived, the woman was outside in the vicinity of 56th Street and Yucca Drive.

Records state the woman went home with Thorstenson, who had been buying drinks for her and her girlfriend throughout the night, when it appeared her friend left her stranded at the bar.

The woman said once inside his home, Thorstenson assaulted her and tried to remove her clothes while exposing himself to her.

She said she never consented to any sexual conduct and thought she would be safe going home with Thorstenson because he owned the bar.

Meanwhile, another deputy who responded to the call followed a pickup truck, which the victim identified as being driven by Thorstenson, leaving the area.

The deputy followed Thorstenson, who pulled into the parking lot of Hogs 'N Horses.

According to MCSO, Thorstenson appeared extremely intoxicated when he exited his truck and a warrant was obtained to administer a blood test.

He is scheduled for arraignment at 1:30 p.m. on March 24 before Justice of the Peace Clancy Jayne at the Desert Ridge Justice Court.

Jayne has been reprimanded five times now by the Arizona Commission on Judicial Conduct since he was first elected in 2008.

Thorstenson last made headlines 17 years ago when Margaret Lesher, his newspaper heiress wife of six months and an estimated worth of $200 million, was found at the bottom of Bartlett Lake while they were on a camping trip.

With no evident signs of foul play, Lesher's death was ruled an accidental drowning.