MARCH 19, 2014
New date for 5th Annual Spur Cross Archaeology Expo is March 22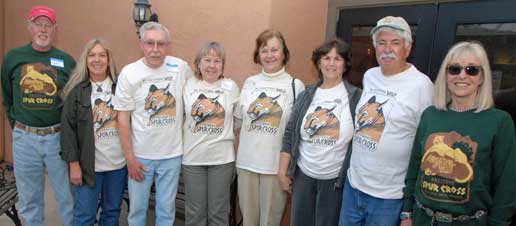 CAVE CREEK – The 5th Annual Archaeology Expo at Spur Cross Ranch Conservation Area, originally scheduled for Saturday, March 1, was rescheduled due to the forecast of heavy rainfall, which we thankfully received. The new date for the Expo is this Saturday, March 22.

Arizona Archeological Society – Desert Foothills Chapter and Cave Creek Museum cosponsor the annual Spur Cross Archaeology Expo. The Spur Cross Ranch Conservation Area event in Cave Creek is open from 9 a.m. – 3 p.m. enabling the public to learn about the area's archaeology through hikes, booths, gold panning, and other live demonstrations.

Participants include Arizona Archeological Society – Desert Foothills Chapter, Cave Creek Museum, Desert Awareness Group, Desert Foothills Land Trust and Verde Valley Archaeology Center.

Highlighted activities include a gold panning demonstration from the Cave Creek Museum Stamp Mill Team, a live pottery making demonstration by Glen Dotson and flint knapping. Tonto archaeologist Scott Wood is a featured speaker. There are children's activities and crafts, as well as the ability to handle prehistoric artifacts. Hikes are scheduled throughout the day with varying degrees of difficulty, some of which include archaeological sites within Spur Cross.

9:30 a.m.-12 p.m. First Mesa Hike - Join Spur Cross ranger Kevin Smith hiking to prehistoric Hohokam dwellings on First Mesa. This is a moderate 2.5 mile hike with some uphill walking. Allow a minimum of two hours. Bring plenty of water.

11 a.m.-12:30 p.m. Jewel of The Creek Hike - Join the Desert Foothills Land Trust staff and park docents on a journey through history at the Jewel and its unique geological formations. This is a one mile hike with a steep rocky trail down to the creek and requires crossing the creek twice with another steep climb back to the top. Allow a minimum of 1.5 hours.

1 – 2 p.m. Scott Wood Talk - Join Scott Wood, Forest Archaeologist/Heritage Program Manager of the Tonto National Forest for a fascinating talk on the prehistory of the foothills area and how it relates to both the Salt River valley and Perry Mesa. The talk will take place at the Spur Cross trailhead area.

2 – 3:30 p.m. Metate Trail Loop Hike - Hike to see some beautiful desert scenery and some of Spur Cross's petroglyphs. This is a fun and easy hike with some walking on loose gravel and traversing over the creek. Allow a minimum of 1.5 hours.

Bring the entire family! Spur Cross Conservation Area is 4 1/2 miles north of Cave Creek's main downtown district at 44000 N. Spur Cross Road. From Cave Creek Road, turn north onto Spur Cross Road. Although the Expo is free, there is a $3/adult park entrance fee. Children under 16 and those with Maricopa County Park or Spur Cross passes are free.

The Cave Creek Museum Spaghetti Dinner fundraiser is coming up on April 13. If you wish to donate silent auction items email info@cavecreekmuseum.com or call 480.488.2764. Tickets may be purchased online at CaveCreekMuseum.org or at the door.

To make monetary donations in support of the Cave Creek Museum, please mail your donation to Cave Creek Museum, PO Box 1, Cave Creek AZ 85327 or visit http://cavecreekmuseum.org/donate-2.