BY LINDA BENTLEY | MARCH 19, 2014
Jean Glass accused of fraud and theft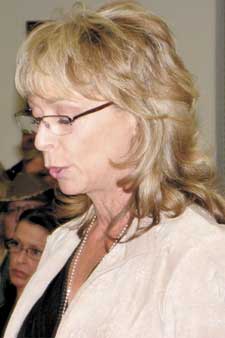 CAVE CREEK – Last month, David Hussey filed a complaint in Maricopa County Superior Court against Cave Creek Merchants and Events Association (CCMEA) Treasurer Jean Glass (r), accusing her of fraud and theft of $125,000.

Hussey stated Glass avoided various attempts to serve her with the complaint until she was finally served at the March 3 Cave Creek Town Council Meeting where he says she immediately tossed it in the trash.

According to the complaint and exhibits, in January, Hussey and Glass discussed building a home and casita on a lot in Cave Creek and that they would each put up $125,000 for the purchase and construction and they would be equal owners.

They even spoke with Cave Creek Planning Director Ian Cordwell, who is trained in architecture, about drawing their plans, which they had roughly sketched out.

Hussey said the balance of the money required would come in the form of a loan with an additional $90,000 to come from a Canadian couple, who would use the casita or guest quarters while visiting in Arizona.

Hussey found a lot on Military Road and, on Jan. 20, he gave Glass a check for $125,000, which Glass promptly cashed.

On Jan. 24, Glass purchased the lot on Military Road for $95,000 solely in her name.

The complaint alleges Glass informed Hussey on Feb. 3 she was no longer interested in the deal and stated, "I hope you learned a lesson" and, "I hope you know what it feels like."

That same day, Glass sent Hussey a text stating, "I'll c u Monday & get ur money. I will also call u during the week to check in."

The following Monday, Feb. 10, Glass informed Hussey she would return his money.

On Feb. 11, Glass was to meet Hussey at Wells Fargo Bank so she could return his money to him.

When Hussey arrived at the bank, Glass was not present but he was directed instead to meet with a bank employee.

The bank employee advised Hussey the check was in the amount of $100,000 and Hussey would need to sign a release to obtain it.

Hussey refused to sign a release stating he was repaid in full.

Despite his demands, Glass has failed to return his $125,000.

The complaint states Hussey is entitled to prejudgment interest on the $125,000 from at least Feb. 3, at the highest rate allowed by law, and recovery of his reasonable attorney's fees.

Glass is being accused of fraud, whereas at the time she made statements to Hussey and/or at the time she received the $125,000 from him, with no intention of performing the agreement as discussed, she only intended to deprive Hussey of $125,000.

It says Hussey was ignorant of the falsity of Glass' statements and, relying on the truthfulness as to what they agreed, he provided Glass with a check for $125,000.

Count two of the complaint accuses Glass of converting Hussey's $125,000 for her own use.

Count three alleges "money had and received" by Glass, who received the $125,000 from Hussey but has failed and refused to pay the money back.

Count four claims Glass was unjustly enriched by the $125,000 to the detriment of Hussey.

Because Glass is a realtor with Better Homes Sonoran Desert Lifestyles Realty, Hussey said he filed complaints with both the Arizona Association of Realtors (AAR) and the Arizona Department of Real Estate.

Hussey claims Glass, because she didn't put their agreement in writing, subsequently claimed the money he delivered to her was partly for repayment of debt and partly for the transaction per their agreement.

He also stated Glass did not place the $125,000 in a separate escrow account and instead deposited it and comingled it with her own funds.

In his ethics complaint to the Arizona Association of Realtors, Hussey claims if Glass intended the monies she received from Hussey was partly to repay a debt and partly for the transaction, she concealed that information from him.

And while they were supposed to be joint owners of the Military Road lot, Hussey informed the AAR that Glass purchased the property in her name only.

Hussey said he contacted the Maricopa County Sheriff's Office about the theft and was informed there was nothing they could do and that's what prompted him to retain a lawyer to file the civil complaint.

On March 11, Hussey said he and a friend went to Cartwright's for dinner but when he entered he saw Glass sipping wine with Patty Pollnow, Cave Creek's community outreach contractor.

He said he walked up to Glass and loudly demanded his money, using expletives.

Hussey said he ended up leaving and dining elsewhere.

Later, on their way home, Hussey said he saw Glass in front of Cartwright's talking to sheriff's deputies and stopped.

He explained the circumstances of the theft to the deputies and told them he was advised by the sheriff's office previously there was nothing they could do.

The following day, Glass filed a petition for an order of protection against Hussey, claiming he has been stalking her, threatening her life and stated she has "abserved (sic) him sitting in his truck in my driveway from March 9 – March 11."

Glass knows Hussey is an avid hunter. In fact, the home they were going to build together included a trophy room. Nonetheless, she checked the box asking the court to order Hussey not to possess firearms or ammunition, claiming risk of harm.

Hussey, who was served with the petition on Monday, March 17, said he's never threatened Glass with physical harm and stated it was her boyfriend William Bonnamy who answered the door with a gun when he went there to ask Glass for his money.

It appears Glass, who initially offered to repay Hussey $100,000 of the $125,000 she owes him, is now not willing to repay him anything.

Glass has not yet responded to the lawsuit and no court dates have been set.

Meanwhile, Hussey said he has forwarded the petition for the order of protection, which, unless contested, prohibits him from contacting Glass, Bonnamy or Bonnamy's son, even if they initiate the contact, to his attorney.

As Sonoran News was going to press, we learned Glass tendered her resignation from CCMEA, which was accepted.