MARCH 19, 2014
Father Dart recognized with "Founder's Award"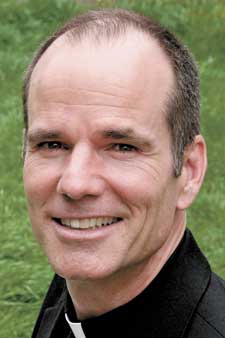 The Foothill Caring Corps will present the distinctive Founder's Award to Father Steven Dart on Friday, March 28, during the non-profit's annual Taste of the Foothills fundraiser. Father Dart was an instrumental force in the establishment of the Foothills Caring Corps, and has helped nurture and guide its mission over the past 14 years.

Father Dart's award presentation will take place at el Pedregal, 34505 N. Scottsdale Road, during the Taste of the Foothills fundraiser. The nightlong event runs from 5 – 9 p.m. and features live music, food and wine tastings, as well as live and silent auctions. For more information on purchasing tickets for this esteemed event, please contact the Foothills Caring Corps at 480-488-1105.

Back in 2000, it became apparent that the community needed some type of elderly assistance program. Father Dart had heard stories from many; one parishioner explained how he drove himself home from the eye doctor with one hand over his eye, "I thought there had to be a better way."

Hearing about the Volunteer Interfaith Caregivers Program, Father Dart generated support through his parish, Christ Anglican Church. Through the collaboration of other churches and the community, the organization grew into a separate non-profit. Now known as the Foothills Caring Corps, the corporation has become an influential network of over 575 volunteers.

Father Dart has served on the Board of Directors for the Caring Corps over the past five years; though he will be stepping down as a director, Father Dart's support and encouragement remains. He hopes the FCC endowment fund will grow, so volunteers can focus on the core mission of assisting the homebound elderly.