MARCH 19, 2014
Desert Foothills Theater presents "Don't Dress for Dinner" March 28 – April 13
Farce promises to deliver non-stop laughs
SCOTTSDALE – Desert Foothills Theater (DFT), a division of the Foothills Community Foundation, presents "Don't Dress for Dinner" running Fri., March 28 through Sun., April 13 in the Black Box Theater of Cactus Shadows Fine Arts Center, 33606 N. 60th Street, in North Scottsdale.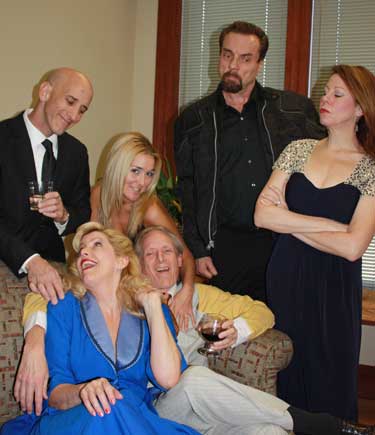 Written by Marc Camoletti and adapted by Robin Hawdon, the farce promises to deliver non-stop laughs as audience members experience a night of mayhem relating to a sizzling affair. The plot revolves around the main character, Bernard, who is having an affair with Suzanne. Bernard hires chef Suzette to cook them a romantic dinner while his wife Jacqueline visits her mother for the weekend. He invites his old chum Robert to dinner as an alibi. It's the perfect plan. What could go wrong?

Jere Van Patten jumped at the chance to direct DFT's production of the show. "I love comedy, and this type of comedy comes at break-neck speed," Van Patten said. "The thing I enjoy most about directing the show is the script itself. What a challenge and a hoot to get my hands on this brilliant script by Marc Camoletti!"

The cast of six have their work cut out for them when it comes to timing. "It's a play about sexual conundrums … so the comedy, the relationships and the timing are all critical," he said. "This type of comedy follows the rule of three a lot, so getting the timing down for those jokes to land is not only essential, but difficult to nail perfectly – but when it does, it's gold!"

The cast includes Glenn Parker, Mark Hackmann, Diane Senffner, Debra Ostreicher, Roger Prenger and Melissa Powers. Performances are at 7:30 p.m. on Friday and Saturday and at 2 p.m. on Sunday. A special 2 p.m. performance featuring a Q&A after the show will take place on Sun., April 6. Tickets range from $15-$32 for adults and $11-$16 for youth and students. Group sale discounts are available for groups of 10 or more.

Visit www.dftheater.org or call 480-488-1981.