MARCH 19, 2014
Foothills Caring Corps hosts "Putt for the Putt Putt"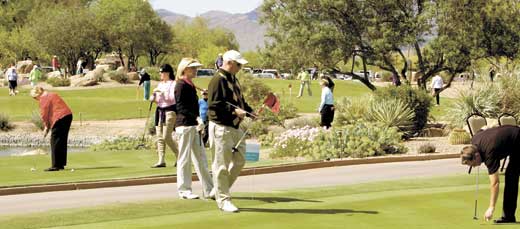 CAREFREE – The Foothills Caring Corps is hosting an 18-Hole golf putting tournament on Friday, April 4. The "Putt for the Putt Putt" will take place at the Tonto Verde Golf Club, 18401 E. El Circulo Drive in Rio Verde, and will support fundraising efforts for elderly transportation programs.

Golf enthusiasts are encouraged to use their putters for a good cause and join in the fun, where there will be the opportunity to win $5,000. The event is limited to 72 players and costs $75 per person. Interested parties may register after March 1. Those that do not have a foursome group may sign up as a single, twosome, or threesome.

Sponsorship packages are still available and start at $300. Title sponsorship is $5,000, and includes the display of the company banner/logo at the course entrance. Title sponsors will also receive formal recognition and acknowledgement at the cocktail reception, as well as a reserved table for eight.

Attendees will play on an 18-hole putting green with registration beginning at 1:30 p.m., and a shotgun start at 2:15 p.m. For those that would like to have lunch before the event, the cost is an additional $20. There will be an evening reception following the event.

A portion of tournament proceeds will benefit the Caring Corps numerous programs including medical appointment and van transportation, and mobile meal delivery for the elderly.

"Whether you are a serious golfer, or just a beginner, this is a fun tournament that welcomes all playing levels. Most importantly, your participation helps to ensure we can provide much-needed programs for our elderly neighbors in the community," said Debbra Determan, Executive Director of the Foothills Caring Corps.

To register, call the Foothills Caring Corps at 480-488-1105. For more information visit their website at foothillscaringcorps.com.