MARCH 12, 2014
Making your home defensible from wildfire
SPRINGERVILLE, Ariz. – The White Mountains received some long anticipated much needed moisture recently, but we still need to be careful with fire. Warm daytime temperatures and high winds will dry out light fuels quickly, making it easy for fires to spread.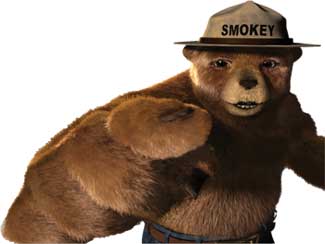 Every spring homeowners should take a proactive approach to protecting their home and property from wildfire. There are multiple ways to make your home more defensible from a wildfire; some of them are very simple. Mow your lawn, keep weeds short and remove ground litter and dead vegetation to slow the advance of a wildfire. Remove all burnable material from rain gutters where embers can get trapped. Trim tree limbs at least 10 feet from the ground to make it harder for ground fire to reach higher limbs and become a crown fire. Reducing the amount of trees, vegetation, and debris a minimum of 100 feet around your home can go a long way when it comes to protecting your home from a wildfire. For more information and helpful tips visit www.firewise.org.

In the process of making your home and property more defensible from wildfire, you will have produced debris such as lawn and tree trimmings, yard waste, stumps, branches, and leaves. This material is known as green waste. There are multiple locations throughout the Apache-Sitgreaves National Forests that accept green waste. To find a location near you, contact your local Ranger District. Some homeowners may choose to burn their yard debris, which can cause a wildfire if not done correctly. Always use caution and common sense before lighting any fire and follow these tips for safe debris burning:

• Comply with local county laws; they may require a burn permit.
• Notify your local fire department and sheriffs' department.
• Check the weather forecast for changing weather conditions or high winds.
• Never burn on a windy day or red flag day.
• Never leave your fire unattended.
• Always keep water and hand tools available.
• Choose a site far from power lines, overhanging limbs, buildings, automobiles and equipment.

If using a burn barrel, make sure it:
• Is metal and in good condition.
• Has vents with metal screen coverings.
• Has a metal top screen with mesh that is one-fourth inch or finer.
• Is stirred often and never left unattended.