BY LINDA BENTLEY | MARCH 12, 2014
Trenk calls recall a joke, signs own petition with dead actor's name
Trenk, who is a lawyer with the Rose Law Group, actually boasted on Facebook about committing the crime later that same day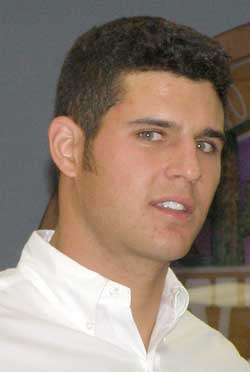 On Thursday, March 6, Vice Mayor Adam Trenk (l) signed the late actor James Gandolfini's name on line seven of his own recall petition, in violation of A.R.S. §19-206(B), and then boasted about it later on Facebook.
Photo by Linda Bentley



CAVE CREEK – On Thursday, March 6, Franco Marzella, a recent Northern Arizona University pre-pharmacy graduate, had a table set up at an area near the Cave Creek Post Office with information and petitions to sign for the recall of Vice Mayor Adam Trenk and his fellow slate councilmen Mike Durkin, Reg Monachino and Charles Spitzer.

At around 4:15 p.m. that afternoon, we were informed Adam Trenk pulled up to the post office in his brand new pickup truck, walked over to the recall table and asked Marzella if he knew who he was.

According to Marzella, he replied, "Yes," while Trenk walked over to flyers on the table, pointed to his picture and said, "That's me."

After Trenk asked him a few questions as to why he was collecting signatures, Marzella said Trenk picked up a pen and proceeded to sign his own recall petition.

When Marzella asked Trenk why he was signing his own recall petition, he said Trenk responded, "Because I think it's a joke."

Article 8, Part 1, Section 1 of the Arizona Constitution provides: "Every public officer in the state of Arizona, holding an elective office, either by election or appointment, is subject to recall from such office by the qualified electors of the electoral district from which candidates are elected to such office. Such electoral district may include the whole state. Such number of said electors as shall equal twenty-five per centum of the number of votes cast at the last preceding general election for all of the candidates for the office held by such officer, may by petition, which shall be known as a recall petition, demand his recall."

Section 2 states: "Every recall petition must contain a general statement, in not more than two hundred words, of the grounds of such demand, and must be filed in the office in which petitions for nominations to the office held by the incumbent are required to be filed. The signatures to such recall petition need not all be on one sheet of paper, but each signer must add to his signature the date of his signing said petition, and his place of residence, giving his street and number, if any, should he reside in a town or city. One of the signers of each sheet of such petition, or the person circulating such sheet, must make and subscribe an oath on said sheet, that the signatures thereon are genuine."

It is every Arizonan's constitutional right to initiate a recall of any elected officer in the state and the Cave Creek Caring Citizens political action committee (PAC) chose to recall this slate of council members for: 1) fiscal irresponsibility, 2) material misrepresentation to the public in the 2013 election, and 3) lack of transparency with regard to the operation of town government.

However, instead of signing his own name, Trenk signed "James Gandolfini," the late actor most acclaimed for his role as Tony Soprano in the HBO hit series "The Sopranos."

After learning what had just occurred, I interviewed Marzella, who personally confirmed the details of the petition signed by Trenk with a dead actor's name.

Richard Dobbs, who had just signed the petition prior to Trenk, also witnessed the exchange and Trenk signing his own recall petition with Gandolfini's name.

A.R.S. §19-206(B) states: "A person knowingly signing any name other than his own to a petition, except in a circumstance where he signs for a person, in the presence of and at the specific request of such person, who is incapable of signing his own name, because of physical infirmity or knowingly signing his name more than once for the same recall issue, at one election, or who knowingly is not at the time of signing a qualified elector of this state is guilty of a class 1 misdemeanor."

Trenk, who is a lawyer with the Rose Law Group, actually boasted on Facebook about committing the crime later that same day.

Although his account of the conversation differs slightly from Marzella's, Trenk discusses how he engaged Marzella in a conversation and after learning Marzella's efforts were successful, admits, "… to keep the conversation going I paid tribute to one of my favorite actors signing that name to the petition."

Trenk's post goes on to state: "Let's not kid ourselves, at the end of the day the toxic recall effort is that of the Sonoran News - a friend sent me this picture from later in the day when SN "reporter" Linda Bently (sic) and puppet John Hoeppner were actually presiding over the petition table."

Presiding?

I was there interviewing Marzella and Hoeppner was at the post office getting his mail before he walked over to chat with Marzella about his efforts to collect signatures that day, while another Creeker, who is also in the photo Trenk mentioned, stopped by to chat.

While Trenk continues to try to blame what he refers to as the "toxic recall" on Sonoran News, the recall effort is actually being conducted by a constitutionally sanctioned PAC that has no affiliation whatsoever with Sonoran News.

This newspaper, which has covered the local political scene for a little over 19 years, would be derelict in its responsibilities to not cover such an event.

It's also worth noting Trenk's "Oath of Admission" to the State Bar of Arizona begins with, "I, Adam Trenk, do solemnly swear that I will support the Constitution of the United States and the Constitution of the State of Arizona."

It ends with, "I will at all times faithfully and diligently adhere to the rules of professional responsibility and a lawyer's creed of professionalism of the State Bar of Arizona."

Misconduct of a lawyer is addressed under section ER 8.4 of Arizona's Rules of Professional Conduct and states, in pertinent part:

It is professional misconduct for a lawyer to:
(b) commit a criminal act that reflects adversely on the lawyer's honesty, trustworthiness or fitness as a lawyer in other respects;
(c) engage in conduct involving dishonesty, fraud, deceit or misrepresentation.

It appears calling our constitutionally permitted processes "a joke" and signing a dead actor's name to a recall petition would breach both his "Oath of Admission" and at least ER8.4 (b) and (c) of the Rules of Professional Conduct.

Meanwhile, witnesses continue to claim Trenk lives on 70th Street in Scottsdale, which precludes him from holding an elected office in Cave Creek, and have spotted him jogging in the morning on Camelback Road.

Durkin, Monachino and Spitzer ran as candidates in a slate with Trenk, voted him in as vice mayor and, as their first order of business after being sworn in, voted in favor of Trenk's likely illegal motion to fire the former town manager, which resulted in a $3 million lawsuit being filed against the town.