MARCH 12, 2014
Fun, inflatable happy gift gives extra bounce to the Scottsdale Arts Festival
44th Scottsdale Arts Festival
March 14–16, 2014
Friday and Saturday, 10 a.m. – 6 p.m.
Sunday, 10 a.m. – 5 p.m.
Outdoors at Scottsdale Center for the Performing Arts
www.ScottsdaleArtsFestival.org





SCOTTSDALE – A smiling, candy-striped inflatable sculpture will be giving some extra bounce to the 44th annual Scottsdale Arts Festival on March 14–16.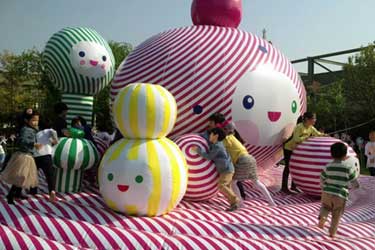 In partnership with Scottsdale Public Art, the Festival will present the U.S. debut of Happy Gift, a 30-foot-wide interactive 'bounce house,' by the pioneering Los Angeles-based art collective FriendsWithYou. Previously exhibited in 2013 in Seoul, South Korea, Happy Gift inspires people of all ages to hop on, play and explore.

Also making its Scottsdale debut will be FriendsWithYou's giant Mushroom Bounce House, which was exhibited in 2010 at Toronto's Luminato Arts Festival and Art Basel Miami, and at New York City's High Line Park in 2011.

FriendsWithYou is the fine-art collaborative of Samuel Borkson and Arturo Sandoval III, who have been working together since 2002. During the past decade, FriendsWithYou has gained international recognition for inspiring, joyous works of art, which include paintings, sculpture, large-scale experiential installations, public playgrounds, published works and live performances.

FriendsWithYou's Happy Gift and Mushroom Bounce House will be exhibited at the Scottsdale Arts Festival in place of the originally planned Happy Rainbow bounce house. Following the Festival, both Happy Gift and Mushroom Bounce House will make an encore appearance at Scottsdale Public Art's Canal Convergence/Spring Equinox event, March 20–23, at the Scottsdale Waterfront.

Admission is $8 for adults, $5 for students and free for members and children 12 and under. Additional information is available online at ScottsdaleArtsFestival.org or through 480-499-TKTS (8587). (Pets are not allowed, except for trained service animals.)

Scottsdale Center for the Performing Arts, 7380 E. Second St., Scottsdale, AZ 85251.