BY LINDA BENTLEY | MARCH 12, 2014
Carefree appoints committee to work on economic development
A flow chart was projected expressing the town's vision for 'Cultivating a vibrant sustainable town center'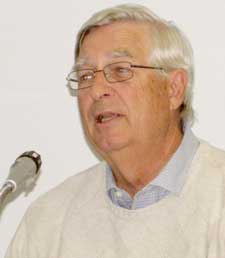 CAREFREE – After council unanimously (with Councilman Marty Saltzman absent) approved the consent agenda, Mayor David Schwan, stating he had no current events to announce, turned the floor over to Vice Mayor Les Peterson (r) to explain the only general agenda item: discussion and possible action to form an Economic Development Committee and appoint council representation to the committee.

A flow chart was projected expressing the town's vision for "Cultivating a vibrant sustainable town center."

Currently, the mayor, vice mayor and staff are working with developer Ed Lewis on his mixed use development for his property on Easy Street.

Peterson explained the town wants to address the vacant properties and finalize the branding for the downtown area with a vision statement utilizing the "village" concept described by the Urban Land Institute.

He said Lewis is looking into the feasibility of including a satellite Phoenix Art Museum, which is doing its due diligence, or possibly incorporating the satellite Heard Museum into the project.

Peterson stated there are four or five ongoing committees and they are looking at a backup plan if the art museum doesn't come.

Other items the town wishes to address include wayfinding and placemaking improvements, additional concerts at the amphitheater, store frontages – whether they should create a unified look, incorporate the MAG Transportation Framework Study that is already underway in conjunction with Cave Creek, and better ways to communicate with people in and outside the town.

He said they need to involve professionals, for which they discussed budgeting during a recent budget workshop.

With the Ed Lewis Easy Street project involving the Phoenix Art Museum and possibly the Heard Museum along with ongoing town initiatives, they felt forming a committee would be a better way of proceeding and the best way to approach it would be to have town council members participate.

Schwan stated he was looking for volunteers.

Although they have not yet started the budget process, council discussed including $400,000 to hire consultants with expertise in the field.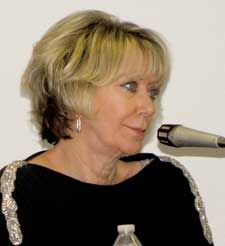 Councilwoman Melissa Price (l) indicated her understanding was it was going to be $1.5 million.

Peterson explained the $1.5 million was discussed as a figure for expanding the Sundial building to include new council chambers/court.

Price said she was concerned about spending that kind of money in this economic environment.

Schwan explained their landlord wants to reinvigorate the property and bring in restaurants and retail to make it successful as he has done with his other properties.

Price stated she doesn't believe they need to build town hall at this time.

Peterson stated it wouldn't have to be paid for in cash and could be financed with a low interest mortgage until it could be paid off.

Town Administrator Gary Neiss said there was a $2.9 million grant for the construction of bike lanes through Carefree as described in the MAG framework study.

Peterson said they discussed spending up to $400,000 to bring in experts and said, "It's still such an open slate."

Councilman John Crane said $400,000 would be adequate.

Councilman Mike Farrar agreed, stating, "I can't imagine it going higher than that."

Peterson stated the committee will have a lot of tools at its disposal.

During public comment, Dick Stewart said he felt like Rip Van Winkle, as he hadn't attended a meeting for some time.

Stewart said, "This talks about the town center but doesn't talk about what residents want."

Schwan stated it was in the town's general plan, which he said calls for a "vibrant town center."

Stewart asked, "Can you define vibrant?"

Schwan responded, jokingly, "It's a wishy washy term that can mean anything we want it to mean at the time."

Ralph Pipp said the town needed to take a more holistic view of the town that included the retreat center and the northeast corner of Cave Creek Road and Carefree Highway.

He said, "I think these areas deserve attention."
Councilman Glenn Miller's motion to appoint Crane, Farrar and Price to the committee carried unanimously.