My View
BY DON SORCHYCH | MARCH 12, 2014

The town core

Collin Leroy "T.C." Thorstenson
From the emails, phone calls and visits I get the Cave Creek Road closures are more than bothersome to citizens. The town has a single artery to get in or out of town. Blocking the four lane highway is not only a nuisance but it is the anathema to voters. Although the Town of Cave Creek argues it is necessary for tax receipts several issues arise.

Because the Hideaway is the main recipient of frequent road closures, usually one of the south lanes, all of the businesses at the western end of town benefit. A member of town staff told me if you consider sewer and water debt the revenues of the town core do not cover cost. That is why the past council went for increased revenue to the west.

I once commented in Call to the Public the council approval of the Hideaway should be rescinded. The reason is the owner of that property told the council, although there wasn't enough parking even for motorcycles, he had the approval of Jeff Price, owner of next door Horny Toad. He didn't have approval and Price not only erected a fence between their properties but he now needs to hire a security guard to prevent parking by non customers.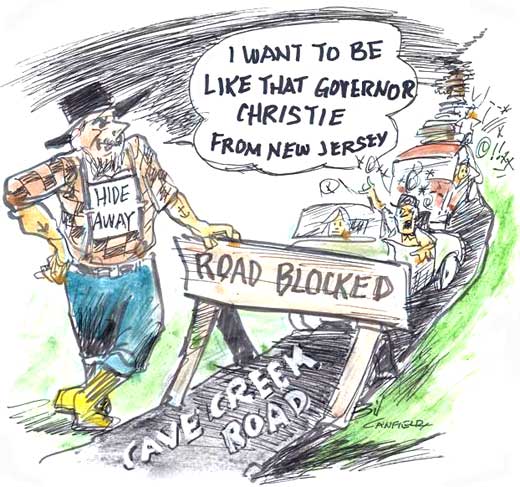 There was an agreement arranged by the town among the Hideaway, Horny Toad, Buffalo Chip, Harolds and the Tap Haus to cooperatively solve the parking problem but it has never worked. It hasn't worked for noise issues either.

The solution to the parking problem is to force businesses to stick to their allowed parking and if not, transport customers from approved areas rather than cause traffic problems for citizens.

I doubt this council will deal with the problem so maybe the winners of the recall election will.

The other hot topic is the ever increasing sign pollution in town. In fact, laws are on the books to allow the majority of sandwich boards which line our streets. Some of the most complained about are the blizzard of signs for Stagecoach Village and the out-of-compliance, oversized Cartwright's lunch board. I am told by Town Marshal Adam Stein they are planning a single sign to list all businesses at Stagecoach Village. That is a help to reduce town clutter but I notice even though commercial properties that house multiple businesses have single monument signs listing tenants, the businesses still use sandwich boards. The Cave Creek Merchants and Events Association's "banner" program and the stupid "whoa" signs work against what is going on elsewhere.

Advertising with Sonoran News, both in print and online, will increase anyone's business, but we have detractors – mostly those who have reputations which have been damaged or lost council seats because of the truth we publish. In fact, closer to the election we will list them – tell you each person who slanders us regularly and why.

In one case, a local business owner told me Adam Trenk bragged to her that whenever he saw Sonoran News in a rack he threw them away and he had a right to since they were free. Not true. MCSO prosecuted a local guy for doing just that. We know of two people in Carefree who did the same and in one case the business owner made him stop. In the other case the owner brought the papers inside under the watchful eye of employees to prevent continued thefts.

Since these miscreants do everything they can to harm our business it would be nice if appreciative readers would tell our advertisers why they value us. It would also be helpful if you tell us when you see people destroying our product or threatening advertisers. We protect sources.
Buffalo Chip vs. Hogs 'N Horses

T.C. Thorstenson, owner of Hogs 'N Horses, a new business next door to Foothills Granite and near the Buffalo Chip, has visited customers of the Chip and pledged to put its owner Larry Wendt out of business. He has staged competing events like the highly successful bull riding the Chip presents on Wednesdays and Fridays.

Why the venom?

It could be Thorstenson wasn't happy with the MSCO investigation of the tragic drowning of his wife in Bartlett Lake. At the time of the investigation, Wendt was the Deputy Chief over Homicide and so his team investigated the death of Margaret Lescher, reportedly worth $100 million dollars.

She was 65 and Thorstenson was 40 when they married and she drowned six months later.
In summarizing the death Thorstenson said, "It's not an unsolved mystery. It's a tragical (sic) thing that happened to someone I loved."

If you like controversy, simply Google "T.C. Thorstenson" and you will get page after page of facts and allegations.

According to press reports the MCSO investigations yielded 885 pages. I have been told there are 3,000 more pages of input from various sources. Rumors abound about the case, but I have not heard anything that would produce the animosity Thorstenson seems to have for Larry Wendt. After all MCSO did not charge Thorstenson in Lesher's death and he is a free man with pockets full of bucks.