MARCH 5, 2014
Cave Creek Fiesta Days Rodeo & Parade set for March 28 – 30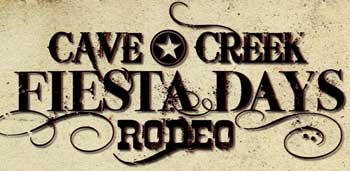 CAVE CREEK – Mark your calendar to attend one of the Valley's biggest events, the 36th Annual Cave Creek Fiesta Days™ Rodeo, set for Fri. – Sun., March 28 – 30 in Cave Creek!

For our rodeo fans, the first PRCA performance is on Friday, March 28 at 7:30 p.m. and it is "Pink Night". The second PRCA performance is Saturday night at 7:30 p.m. The final PRCA performance, the Wrangler National Patriot Day, is Sunday at 2 p.m. Rodeo weekend offers three full action packed PRCA performances at the Cave Creek Memorial Arena and tickets are available now at www.TicketForce.com (2013 had two sold out performances, so we suggest buying tickets early).

Special events during rodeo include the Historic Fiesta Days Parade at 9 a.m. on Saturday morning in the Town of Cave Creek. The Mutton Bustin' competition and Finals is at 2 p.m. on Saturday. Gates open at noon on March 29 and registration is from 12:30 – 1:30 p.m. The Friday night Rodeo Dance is sponsored by the Cave Creek Tap Haus. The Saturday night Rodeo Dance is sponsored by Harold's Corral.

Complimentary shuttles will run every 15 minutes from town to the rodeo grounds and back – starting Saturday from 5 – 10 p.m. Rodeo fans can enjoy dinner and drinks in town and then take a free shuttle to the Saturday night performance.

The full schedule of rodeo and special events can be found at www.CaveCreekProRodeo.com.