BY LINDA BENTLEY | MARCH 5, 2014
California students forfeit constitutional rights to Mexicans
SAN FRANCISCO – Last week a Ninth Circuit Court of Appeals panel affirmed the U.S. District Court's granting of summary judgment in favor of Morgan Hill Unified School District, a civil rights suit brought by high school students who were asked to remove clothing bearing images of the American flag after school officials learned of threats of race-related violence during a school-sanctioned celebration of Cinco de Mayo.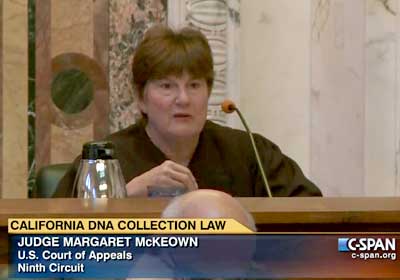 Judge M. Margaret McKeown (r), as part of the panel that included Ninth Circuit Judge Sidney R. Thomas and District Court Judge Virginia M. Kendall, delivered the opinion of the court, stating school officials did not violate the students' rights to freedom of expression, due process, or equal protection.

Given the history of prior events on campus, the panel held it was reasonable for school officials to proceed as though the threat of a potentially violent disturbance was real.

Because school officials "anticipated violence or substantial disruption of or material interference with school activities," the panel determined their response was tailored to the circumstances.

Citing Wynar v. Douglas County School District, the panel said it was once again asked to consider "the delicate relationship between students' First Amendment rights and the operational and safety needs of schools," whereas "school administrators face the daunting task of evaluating potential threats of violence and keeping their students safe without impinging on their constitutional rights."

In this particular case, Dariano et al v. Morgan Hill Unified School District, et al, after school officials learned there was a threat of race-related violence during a school-sanctioned celebration of Cinco de Mayo, a group of students were asked to remove clothing bearing the images of the American flag.

The lawsuit stems from the events on May 5, 2010, Cinco de Mayo, at Live Oak High School, part of the Morgan Hill Unified School District in the Santa Clary Valley 10 miles south of San Jose, Calif.

According to the district, the Cinco de Mayo celebration was presented in the "spirit of cultural appreciation," honoring "the pride and community strength of the Mexican people who settled this valley and who continue to work here."

Live Oak has had a history of violence among students, some of which were gang-related or drawn along racial lines.

Although Live Oak has a police officer stationed on campus every day, Nick Boden, during his six years serving as principal, said he observed at least 30 fights on campus, including gang fights and fights between Caucasian and Hispanic students.

When Rodriguez was told by students "there might be problems," he understood that to mean there might be a physical altercation.

Boden directed Rodriguez to have the students either turn their shirts inside out or take them off and said he was concerned for their safety.

While they didn't dispute the fact their attire put them at risk of violence, the students refused. One stated he was "willing to take on that responsibility," in order to continue wearing his shirt.

He and another student said they would have worn the flag clothing even if they had known violence would be directed at them.

Students were offered the choice of either turning their shirts inside out or go home for the day with excused absences that would not count against their attendance records.

Some of students were allowed to return to class when it was determined their shirts' display of the American flag was incidental and did not place them at risk of violence.

The remaining two students chose to go home and neither was disciplined.

However, following their departure from school, the two students received numerous threats from other students. One threat came via text message another by a threatening phone call from a caller who said he was outside the student's home.

Another student overheard a group of classmates saying gang members were going to come down from San Jose to "take care of" the students.

Because of the threats, the students did not go to school on May 7.

The students and their guardian parents filed the lawsuit against the district, Boden and Rodriguez, alleging violations of their federal and California constitutional rights to freedom of expression and their federal constitutional rights to equal protection and due process.

On cross motions for summary judgment, the district court granted Rodriguez's motion on all claims and denied the student's motions on all claims.

Because the events of 2010 took place in the shadow of similar disruptions in 2009 that pitted racial or ethnic groups against each other with students warning officials that there might be fighting at the break, the panel stated it was not their role to "second-guess the school's decision to have a Cinco de Mayo celebration or the precautions put in place to avoid violence."

The panel stated it only reviewed the case with deference to the school's decisions in connection with the safety of its students even though freedom of expression was involved and said keeping in mind "deference does not mean abdication."

The school claimed it had a viewpoint-neutral reason – student safety – for suppressing the speech in question and that it treated "all students for whose safety they feared in the same manner."

Because there was no evidence students wearing colors of the Mexican flag were targeted for violence, the court determined there was no evidence of impermissible viewpoint discrimination and rejected the students' equal protection claim.

In other words, because only Mexican students threatened violence against Caucasian students and there was no threat of violence against the Mexican students, the court found the school did not discriminate on the basis of safety.

The panel stated, "It would be unreasonable to require a dress code to anticipate every scenario that might pose a safety risk to students or that might substantially disrupt school activities. Dress codes are not, nor should they be, a school version of the Code of Federal Regulations," as it affirmed the ruling of the lower court.