BY LINDA BENTLEY | MARCH 5, 2014
Banner program still not ready for prime time
Divided council nixes library contribution
CAVE CREEK – Town council met Monday afternoon for a retreat, an informal working session to hash out the upcoming year's agenda.

They discussed the Fiscal Year 2015 Budget to provide staff with direction and guidance pertaining to operations and capital improvement and the 4,000 acres of state land the town wishes to acquire as open space.

They also discussed the town's plans for economic development over three, five and 10 years; water rate analysis; impact fees pertaining to infrastructure sustainability; as well as the development and connectivity of its trail system.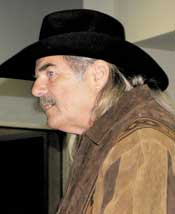 During Monday night's regular council meeting, Johnny Ringo (r) and Jean Glass from Cave Creek Merchant's and Events Association (CCMEA) provided council with an update on the banner sign program.

Planning Director Ian Cordwell told council he needed to get right-of-way permission from Maricopa County for two of the poles slated for Carefree Highway. He said the Blue Staking had been completed and it should be done before Fiesta Days.

Glass said four of the poles in the town core were in place and stated all the banners would be two sided with a Cave Creek banner on one side and a promotional banner on the other.

Glass said they planned on charging $1,200 per month for banners during the high season (September through February) and $900 per month during low season (March through August) with sponsorships on Carefree Highway $1,200 year 'round.

Nonprofits would receive a 30 percent discount.

The banners would cost $129 each.

Councilman Mike Durkin asked, without mentioning any names, what types of commercial entities expressed interest in the program.

Glass said there were two car dealerships that were interested.

Councilman Thomas McGuire said he would like to see as many Cave Creek businesses utilize the program as possible and also noted the writing on the banners is too small to read.

Councilman Charles Spitzer asked if she had any idea what the eventual revenue stream would be.

Glass said she estimates the gross will be around $20,000.

Vice Mayor Adam Trenk said he had a problem with there being no criteria for determining qualifications for advertisers and asked if they needed to have a Cave Creek business license.

He also stated advertising car dealerships on Carefree Highway does not benefit the town.

During public comment, Scott Dahne said what he was hearing was "wishy washy," too discretional and needed some solid guidelines.

David Smith wondered about the 60 day/120 day split Glass referred to as being available for nonprofit organizations and who would make that decision. He said, "Apparently there are no guidelines" and asked if there was any language that says CCMEA will use the funds to benefit the town.

Bob Moore said he had a minor concern, asking if all poles were created equal as far as position goes and if positions would be rotated.

Ringo stated they were all volunteers with the CCMEA that are dedicated to the town but said some of their questions need to be addressed, adding, "And they will."

He said, "The money will go the right way. We want the money to go back into the community."

Ringo told council their books were open any time anyone wanted to see where the money goes.

Councilman Ernie Bunch said he appreciated the work they'd done and was looking at it more favorably than he had before.

Prefacing his comments by saying he was a charter member of the CCMEA, Councilman Reg Monachino stated there were comments made about the readability of the signs, how many sponsors were from outside, if the program is too expensive for local businesses, and said, "Why don't we let the merchants association run the program. I don't think town staff should have discretion. Let the merchants run the program."

Durkin noted this was the third time this had come before them and said, "It's time to fire the engineers and put this out and see how it goes."

McGuire said they should give priority to Cave Creek businesses.

Spitzer said he thought it was a really good idea to have the program run for the businesses, not the town, and suggested they come up with more cut and dried rules and less discretion.

Trenk stated, "I still don't think this is ready for prime time" and suggested the town lease the poles to CCMEA, that they come up with a firm set of policies and said, "I have a hard time asking staff to help manage this program."

Mayor Vincent Francia said he agreed that CCMEA should be making those decisions and agreed with Spitzer's suggestion that giving priority to those with a Cave Creek business license would be a good place to start.

The item was informational only with no council action to be taken.

Desert Foothills Library Executive Director David Court spoke to council regarding its consideration of a $10,000 contribution to the library.

He said the library's annual budget is $619,000, most of which he stated came from private donations.

Court noted the library just celebrated its 60th Anniversary on Feb. 14.

When asked what they would use the money for, Court stated they currently budget $5,000 for children's programs and they would use it to expand their children's programs.

Durkin asked how much the library has in capital reserves.

Court said he would hate for their good housekeeping to dissuade council from giving them the $10,000 and stated the library has an endowment fund of $2 million, which is not to be used for operations.

During public comment, Scott Dahne said, unlike CCMEA, whose books are open, the library's are not.

He said when he served on the library's board he noted irregularities and requested an audit. Dahne said he was refused.

"They should have an audit before they see a dime. Why is the town giving $10,000 to an organization that has more than $2 million. Maybe the library should be giving money to the town," said Dahne as he urged council to vote no.

McGuire stated this was something they had put in the budget for this year.

Durkin said, "I hate to sound like a wet blanket, but what is the criteria used to justify giving away taxpayer money?"

He said the library doesn't appear to generate money for the town and he couldn't support it.

Spitzer said there was no way to know if the accusation made by Dahne were true or if the money will be used for the stated purpose.

He said there were many non-profits in need, such as the Foothills Food Bank.

Bunch said he agreed, had issues with it and wasn't going to support it.

When Francia asked if Durkin was basing his decision on the accusations made by Dahne, Durkin said he was not and stated, "Looking at the library, it seems to be robust."

The motion to approve the $10,000 contribution failed by a vote of 3-4 with Spitzer, Bunch, Monachino and Durkin dissenting.

Cordwell presented the "Infrastructure Improvements Plan and Draft Development Fees" prepared for the town by its consultants TischlerBise.

Cordwell stated there was no one present from TischlerBise and said the recommended range of fees would be a policy decision by council.

Trenk questioned how they came up with the assumption trails would cost $72,000 per mile.

Spitzer asked what the bottom line was, if fees were going up or down.

Cordwell said water and wastewater would be handled separately and were not included.

He also pointed out fees could not be used for maintenance of existing facilities and infrastructure and could only be used to build, improve or expand.

Cordwell said they removed transportation fees, which he said were really high, since the town does not plan to build any new roads, making the fees less.

Because council had questions only the consultant could answer, Cordwell suggested council table the item until the March 17 meeting whereas they could analyze net fees and consult with TischlerBise to determine how they came up with the assumptions used.

Council voted unani-mously to table the item until March 17 with Francia commenting it was "ludicrous" that the town hired TischlerBise to do this project and they didn't show up.