MARCH 5, 2014
Arizona SCITECH Festival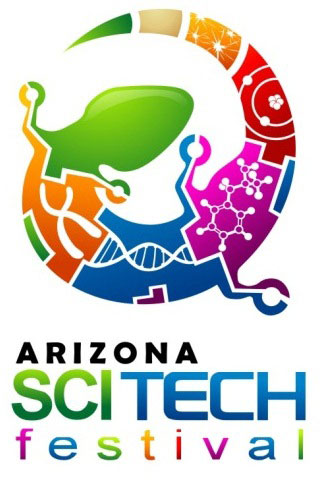 Science Festivals do for science what film festivals do for films. They offer activities and events that engage, inspire and spark imagination across entire communities. Through diverse programming encompassing conversations, debates and forums; practical or hands-on workshops, displays and exhibitions; broadcasts, concerts and plays; site visits, guided walks and tours, Arizonans will develop a first hand understanding of the importance of science and technology to Arizona's past, present and future.

Don't miss these exciting SCITECH Events!

Saturday, March 8
Event: Crushing for Gold (10 a.m. – 1 p.m.) Panning for Gold (1 – 4:30 p.m.)
Where: Cave Creek Museum, 6140 Skyline Drive, Cave Creek
Audience: youth/family, teen, adult, teacher: everyone FREE
Event: -Science in the Park (10 a.m. – 3 p.m.)
Where: Desert Awareness Park (Cave Creek & Vermeersch Rds.) in Cave Creek
Audience: youth/family, scouts hike along a 1/4 mile trail looking for secrets of the desert. Meet a tarantula, a scorpion & more! Learn how the desert flora provides medicine and food! FREE
Event: Kid's MakerSpace (1 – 3 p.m.)
Where: Desert Broom Library, 29710 N Cave Creek Rd
Audience: youth stop by and create your own tech toys! Marshmallow launchers and kazoos are only two of the possibilities. FREE
Event: Science and the Psychology of Dreaming (1 – 2:30 p.m.)
Where: Desert Foothills Library
Audience: adults interested in this topic. Bob Hoss, author of 'Dream Language' and 'Dream to Freedom' and past president of the International Association for the Study of Dreams, and director of DreamScience Foundation, will discuss the nature of the brain while dreaming, the evolution of brain scan technology, and understanding dreams. Limited seating.
Register: 480-488-2286. www.dreamlanguage.org.
Sunday, March 9
Event: Exploring Nature at Jewel of the Creek Preserve (10-11:30 a.m.)
Where: Jewel of the Creek Preserve, Spur Cross Rd, Cave Creek
Audience: Hiking families—2 mile hike exploring the riparian habitat of native animals.
Register at www.dflt.org. FREE
Monday, March 10
Event: Hidden Sky (10 – 11 a.m.)
Where: Desert Foothills Library—Cave Creek & Schoolhouse Rds.
Audience: There is a great deal more in the night sky than most of us think. A pair of binoculars only reveals some of it, and a small telescope shows more. But time photography reveals deep colors and vast details that are breathtaking. Retired professor Don Scott will show amazing images he has taken of the hidden sky. He will also describe some of the techniques used to obtain this collection of beautiful images. Limited seating. Adults call to Register: 480-488-2286. FREE

Tuesday, March 11
Event: Exploring Flight (4 – 5 p.m.)
Where: Desert Broom Library, 29710 N Cave Creek Rd
Audience: age 8 up (limited space). Join Mark Knight from Sonora Wings for an exploration of Bernoulli's Principle of Flight using paper and model airplanes. This action-packed program is FREE.
Wednesday, March 12
Event: Panning for Gold (1 – 4:30 p.m.)
Where: Cave Creek Museum– Basin & Cave Creek Rds. in Cave Creek
Audience: youth/family, gold lovers of all ages! FREE
Thursday, March 13
Event: Story Time Hike (10-11:30 a.m.)
Where: Saguaro Hill Preserve at Desert Foothills Library–10-11:30 am
Audience: story followed by a wandering hike among the "giants"- ages 6 and under. Register at www.dflt.org. FREE
Saturday, March 15
Event: Community Day and live "Science of Swimming" Experiment! (9 a.m. – 3 p.m.
Where: Desert Foothills YMCA
Audience: Experiment is open to all ages. Must be able to swim at least one length of the pool freestyle to qualify for the study: 10 and younger (9-11 a.m.); 11-18 (11 a.m.-1 p.m.); 19+ (1-3 p.m.). Experiments will start at the top of every hour taking 50 minutes to complete.
Registration: Participation in the event is free and every YMCA branch is open to the community free of charge on March 15!! Participants and volunteers are needed for the experiment. Space is limited so register NOW at by visiting the Desert Foothills YMCA Welcome Center. Walk-ins will be accepted on a space available basis. Contact Katie Smetana at ksmetana@vosymca.org or visit www.valleyYMCA.org for more information.
Tuesday, March 18
Event: Digital Photography Clinic (11 a.m. – 1 p.m.)
Where: Desert Broom Library, 29710 N Cave Creek Rd
Audience: adults – REGISTRATION REQUIRED. This FREE workshop-style clinic will provide the individual with the opportunity to have their photography questions answered by professionals. Bring your digital camera for hands-on guidance. Individuals are also invited to bring several images for review and critique. Limited to 20 students.
Tuesday, March 18
Event: Yappy Hour on the Terrace: Why Your Dog Loves You So (4-5:30 p.m.)
Where: Desert Foothills Library
Audience: Wine for humans, treats for the pups...Join us, with your dog (or just because you're a dog-lover), mingle out on the Waterfall Terrace, and enjoy hearing Clive D. L. Wynne, PhD, a professor of psychology at ASU and Director of Canine Science Collaboratory, discuss the cognition and behavior of dogs. Limited seating. RSVP requested to help plan for refreshments: 480-488-2286. FREE www.clivewynne.com/psychology
Thursday, March 20
Event: STEAMtastic and Star Party (4 – 10 p.m., star viewing begins at 7 p.m.)
Where: PVCC, FCF, Y at Black Mountain Campus 34250 N 60th St. Scottsdale
Audience: All ages…the entire family. Call 480-488-1090 for more information. FREE