MARCH 5, 2014
An Arizona Evening with Dolan Ellis: Tall Tales, Lost Trails & Heroes
Carefree Kiwanis benefit concert Saturday, March 15 at 7 p.m.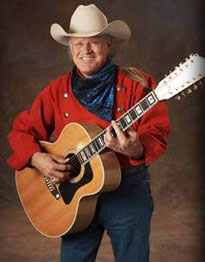 His work is synonymous with Arizona, its lands and its people. Dolan Ellis has explored the little known corners of our grand state, researching legends and historical events to write and sing about them in a way that only he can.

As Arizona's Official State Balladeer, Ellis has sung his ballads in more than twenty countries around the world. As an original and continuing member of the famous folk group, The New Christy Minstrels, he has earned several Gold Records as well as being honored with a GRAMMY Award.

"An Arizona Evening with Dolan Ellis: Tall Tales, Lost Trails & Heroes" on March 15, is exactly what the concert title promises: true stories and tall tales, great music, and a heartfelt celebration of the history and people of Arizona. It's a fun, nostalgic, and thoroughly entertaining trip through the Old West.

Special guest, writer and western artist Bob Boze Bell, Executive Editor of "True West Magazine," will introduce Ellis, and the two are in the process of "cooking up something" that will be a real treat during the performance.

"An Arizona Evening with Dolan Ellis: Tall Tales, Lost Trails & Heroes" is a Carefree Kiwanis Benefit Concert to support the Kiwanis of Carefree Benefit Foundation. The concert begins at 7 p.m. at North Scottsdale Christian, located at 28700 N. Pima Road, Scottsdale 85266 (on the west side of Pima, just north of Dynamite).

Advance tickets are available for $28 by calling 480-488-8400 or at www.kiwaniscarefree.org.
Tickets purchased at the door on the night of the performance are $35.

The Kiwanis of Carefree is a 501.c3 organization "Building the Future for Kids" by helping children recognize and develop their potential by offering post-secondary scholarships, summer art programs, community science fairs and mentoring, special needs support, youth service organizations, and more. The Kiwanis Club of Carefree plans to build a 9,700 square foot building on property the Club owns on Cave Creek Road. To help the Kiwanis Club of Carefree realize its goal, please contact Dave Bell, Fundraising Committee Chairman at davjanbell@cox.net or leave a message with the Kiwanis Club of Carefree at 480-488-8400.
For information or to volunteer with the Kiwanis Club of Carefree, call 480-488-8400 or visit www.kiwaniscarefree.org.