MARCH 5, 2014
Meet Foothills Academy 6th grade chess star Carson Brechner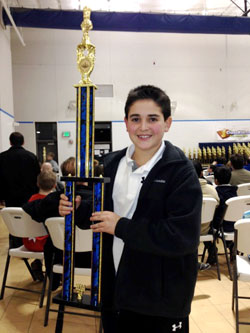 Foothills Academy College Preparatory's student, Carson Brechner, recently received a notice from the United States Chess Federation informing him that he broke into the top 100 nationally ranked players for the February 2014 list. Carson is an 11 year-old sixth grader who has started excelling in chess. Carson's latest triumph was at The Unity Open on February 8th in Scottsdale where he played against sixteen people, a mixture of adults and kids, and took 2nd place.

Carson started playing chess competitively a little over a year ago and has won a number of tournaments. His list of achievements in chess include 2nd place at the Chess Emporium Eclipse Tournament on Sept. 13, 2013; 2nd place at the AZ Chess Central Queens Knightmare Sectional on Oct. 13, 2013; 1st place at the AZ Chess Central Pawn Storm Sectional on Nov. 13, 2013; 2nd place at the Chess Unity Open on Jan. 14, 2014; and 2nd place in all of Arizona for his grade level at the Arizona State Chess Championship on Jan. 11, 2014.

Steven Brechner, Carson's father, believes that learning and playing chess has increased his ability to focus and problem solve. His father says he "credits his 4.0 GPA to his learning the game because it has allowed him to hone his time management skills." Carson is also interested in sports, and last year he was the only 6th grader on the middle school 7th/8th grade flag football team, which shows he is a well-rounded kid who exceeds at what he puts his mind to.

Foothills Academy believes his interest in chess is wonderful since it has had a positive impact in his school achievements. The school's principal, Jim White, is excited for Carson's accomplishments in chess and states that he "is very proud to have him represent the students at the school." For more information about Foothills Academy please visit www.foothillsacademy.com.