FEBRUARY 19, 2014
Donor pays off mortgage for Foothills Food Bank & Resource Center's new facility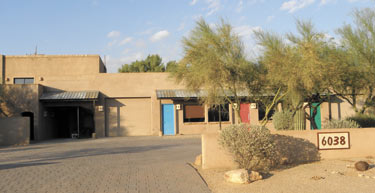 CAVE CREEK – The Foothills Food Bank & Resource Center received the precious donation of a $300,000 mortgage payoff from an anonymous donor. According to the food bank's executive director, Pam DiPietro, the generous donation saves the northern foothills food bank $36,000 in payments annually for the facility it purchased in December 2012.

"While this was an incredible donation, our food bank anticipates an increase in the number of people who will need our help due to recent cutbacks in food stamps," says DiPietro. "Since moving to our new facility, 426 more individuals have asked for our help, and since January, we have seen an additional 47 individuals request assistance along with the 8,000-plus people we already serve. So, we continue to be in dire need of food and monies from the public at-large."

According to DiPietro, the new building effort got underway in March 2008, when a food bank volunteer suggested the Cave Creek resource center purchase a building and pledged $100,000 to begin a capital campaign. Donations helped renovate the purchased building so it would be ready for move-in in June 2013. The generous donation by the donor allowed Foothills Food Bank & Resource Center to clear its mortgage debt by February 2014. Foothills Food Bank & Resource Center plans a mortgage burning celebration on Saturday, March 22 at 10:30 a.m. at its complex, which is located at 6038 E. Hidden Valley Road in Cave Creek, Ariz.

To donate to Foothills Food Bank & Resource Center, visit www.foothillsfoodbank.com or call 480-488-1145.

The Foothills Food Bank and Resource Center provides emergency food, financial assistance and other life necessities and resources to individuals and families in the desert foothills, which encompasses a 180-square mile area that includes Black Canyon City, Cave Creek, Carefree, Anthem, Desert Hills, New River, north Scottsdale and north Phoenix.