FEBRUARY 19, 2014
Kiwanis Club of Carefree Flea Market & Marketplace 8 a.m. – 1 p.m. Saturday, March 8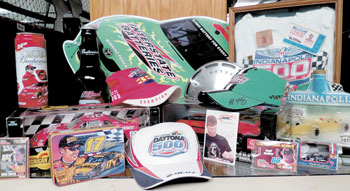 Does NASCAR memorabilia get your engine revving? Does the thought of adding a vintage Avon perfume bottle (or two, or three) to your collection sound sweet? There are many popular collectibles at the upcoming Carefree Kiwanis Flea Market and Marketplace from 8 a.m. to 1 p.m. on Saturday, March 8, in addition to the usual vast array of furnishings, electronics, exercise equipment and housewares.

In addition to the racing memorabilia and perfume bottles are Norman Rockwell Collector Plates and Limoge "Paris Series" Collector Plates. The Marketplace is open Wednesday, Thursday, Friday and Saturday 9 a.m. to 1 p.m.

You can treasure hunt at both the Flea Market and Marketplace on March 8, because the Marketplace is located at 7171 Cave Creek Road, Carefree, Arizona 85377, across the parking lot from the Flea Market, located at Dave Anderson Memorial Building, 7177 E. Ed Everett Way in Carefree, Arizona 85377 (southwest corner of Tom Darlington and Cave Creek Road).

Cash, credit cards and checks (with I.D.) will be accepted. All proceeds benefit the Youth Programs of Kiwanis Club of Carefree, a 501.c3 organization. To schedule a donation pick-up, volunteer at the Flea Market warehouse or join the Carefree Kiwanis, please call the Kiwanis Club of Carefree at 480.488.8400 or visit www.kiwaniscarefree.org.