BY LINDA BENTLEY | FEBRUARY 12, 2014
ULI encourages collaboration rather than isolation
New leadership at MCSO District 4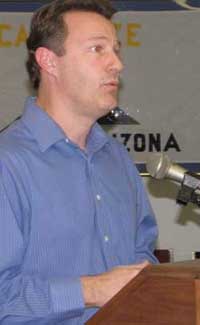 CAREFREE – During Tuesday's council meeting, Pastor Jim Noble (l) from Desert Hills Presbyterian Church presented the rollout of Neighbors In Need AZ, a new program that connects various community services, programs and support groups in one location.

People who need help financially or with food, shelter, clothing, transportation, moving or other needs can visit the website: www.neighborsinneedaz.org, which is networked with the Foothills Caring Corp, Foothills Food Bank, Foothills YMCA, Hospice of the Valley, Salvation Army, Scottsdale Health Care, St. Vincent de Paul and other organizations, and briefly describe their need(s) and provide contact information.

Requests will go confidentially to whichever service provider(s) can fill those needs.

Noble said they have raised enough funds to hire a part-time social worker, who will soon be able to answer phone requests at 480-745-2229 for those who do not have access to a computer.

Neighbors In Need AZ, which will serve as an umbrella nonprofit organization for an expanding network of service providers, does not provide any services and is just a means of facilitating those services.

And, as a group, Noble said they will have the ability to apply for grants.

Noble said donations may be sent to: Neighbors In Need AZ, PO Box 874, Carefree, AZ 85377.

People wishing to volunteer can visit the website and fill out the brief form to express their areas of interest.

Desert Foothills Family YMCA Executive Director Katie Smetana followed Noble with a PowerPoint presentation updating council on the YMCA's accomplishments and programs.

Smetana noted the YMCA is more than a "swim and gym" that offers numerous programs for active older adults; over 33 youth programs; aquatic offerings such as lessons, laps, recreation, swim teams and parties; and houses the K-12 Arizona Virtual Academy, an online charter school program.

According to Smetana, there are over 2,600 YMCAs in the country that serve 10,000 communities, with more than 20,000 members and 500,000 volunteers.

She said donations and volunteers are critical to keeping their programs affordable.

Last month, a panel assembled by the Urban Land Institute (ULI), which council engaged to do a study of its town center, evaluated the business conditions and, as a result of the study, came up with non-specific recommendations, which were presented to council during the Feb. 4 council meeting.

ULI is a 501 (c) (3) nonprofit research and education organization supported by its members with a mission of providing "leadership in the responsible use of land and in creating and sustaining thriving communities worldwide."

In evaluating the needs of communities, ULI is committed to "advancing land use policies and design practices that respect the uniqueness of both the built and natural environments" as well as "fostering collaboration within and beyond ULI's membership through mentoring, dialogue and problem solving."

Dave Roderique, president and CEO of the Downtown Phoenix Partnership and Amy Malloy, development manager at Macerich, formerly Westcor, did a tag-team presentation of the ULI panel's findings.

Roderique said their goal was not to provide detailed answers but to make the town aware of key trends.

Malloy noted the town wanted to be a village but was truning its back on the village.

She said the panel encouraged a mixed-use concept for the town center, which Roderique later bolstered by stating they were better off with 50 percent occupied retail and other uses than half empty retail space.

They encouraged the formation of an organized business association that can formulate its own ideas of what it would like to see in the community.

Roderique said investment in capital projects, whether it be a splash pad or something else, is best achieved as a public/private partnership.

He said it is key to have stakeholders involved in both the decision-making and financing of those types of projects, ensuring they have really bought into the project.

Malloy said the town needs to find out who belongs in the green, yellow and red groups, with the green being those on board, yellow being those who need some coaxing, or as Malloy joked, those who needed to be taken to dinner, and red being those who are opposed but need to be kept from becoming obstructionists.

When it came to the question of parking, Roderique said it's a difficult situation and a real balancing act.

He said the town shouldn't attempt to accommodate all of its parking needs for special events and stated most people expect to have to walk a ways during special events.

Too much parking, he said, can give the town an appearance of being deserted.

Roderique said a parking structure was not looked at favorably, as it would cost well over $20,000 per parking space and require ongoing maintenance.

He said the town could better utilize a parking management program, whereas time restrictions or other strategies could be utilized.

Malloy said there were different ways to incentivize new business, including the formation of a business improvement district or SBA loans and stated the town might want to engage a financial consultant.

She said the town might also want to look at what neighboring Cave Creek is doing successfully and work more collaboratively with their neighbor rather than isolate themselves.

One of the biggest issues the town has faced is way-finding and the difficulty in letting people know what is in the town center.

Roderique said the town needs to make it obvious.

Most of all, he said passion is what drives this activity and they need to keep at it, as it's not a short-term process.

Roderique said ULI will be providing council with its written report within the next four to six weeks.

Following ULI's presentation, council voted unanimously to approve the consent agenda.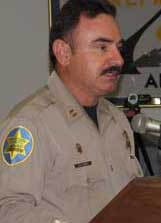 During Call to the Public, Maricopa County Sheriff's Office Capt. Dante Proto (l) introduced himself as the District 4 Patrol Captain and introduced Lt. Todd Hoggatt, who has taken over the supervision of the District 4 Station in Cave Creek.

Call to the Public also brought Bob Gearhart to the podium. He said he appeared last month to advise council of the unsafe conditions of the crosswalks on Tom Darlington Drive.

He said he met with Paul Basha, the town's traffic engineer, and while he was showing Basha the problems with the crosswalks and flashing yellow lights they almost got hit by a car.

He provided council with a petition signed by 82 people requesting council do something about the unsafe crossing conditions and asked what council has done about the situation since he appeared last month.

Another citizen commented on the subject and said people aren't accustomed to stopping on a yellow light.

While Mayor David Schwan said they couldn't discuss the item because it was not on the agenda, he did tell Gearhart he spoke to Town Administrator Gary Neiss about the issue and Neiss, in turn, has spoken to four different companies to see what can be done to improve the situation and they were waiting for them to come to look at it.

During Current Events, Schwan said there would be a Water Company meeting at 4:30 p.m. on Feb. 25, followed by a special meeting of town council to conduct a budget workshop.