BY LINDA BENTLEY | FEBRUARY 12, 2014
Man sentenced to 30 years in connection with Brian Terry murder
'Agent Terry's murder was a tragically foreseeable consequence of defendant's agreement to engage in armed robberies'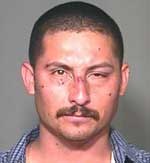 TUCSON – Manuel Osorio-Arellanes (r) was sentenced on Monday to 30 years in federal prison in connection with the murder of Border Patrol Agent Brian Terry, who was 40 at the time he was murdered on Dec. 14, 2010 with one of the approximately 2,000 guns that were supplied to drug cartels by the U.S. government's Fast and Furious program.

While the guns were supplied with the hope they could be tracked and lead them to the drug cartel kingpins, the federal government lost track of 1,400 of the guns involved, two of which turned up at the scene of Terry's murder.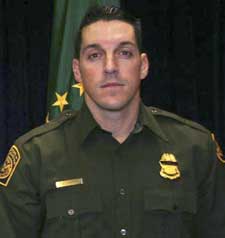 On Dec. 14, 2010, BORTAC (Border Patrol Tactical Unit) team members, including Terry (l), came across five armed men in an area of high drug smuggling.

The encounter ended up in a shootout after announcing their presence as law enforcement officials.

A single bullet fired by a co-defendant of Osorio-Arellanes struck Terry, who died at the scene.

Osorio-Arellanes sustained gunshot wounds to his torso, rendering him unable to flee to Mexico with his four co-defendants.

Mexican authorities have since arrested defendant Leonel Portillo-Meza and Ivan Soto-Barazza in connection with Terry's murder and extradition proceedings are ongoing.

The remaining two defendants, Heraclio Osorio-Arellanes, Osorio-Arellanes' brother, and Jesus Rosario Favela-Astorga remain fugitives in Mexico.

Osorio-Arellanes pled guilty to first degree felony murder in October 2012 and, in his plea agreement, admitted he and the co-defendants entered the United States in December 2010 as a rip crew.

The intent was to rob (rip off) smugglers of their marijuana loads and provide the stolen marijuana to other individuals in the United States.

He also admitted they retrieved guns and supplies upon entering the United States and they were looking for smugglers to rob when they encountered the BORTAC team on Dec. 14, 2010.

Osorio-Arellanes eventually admitted one of his co-defendants killed Terry.

Although Osorio-Arellanes maintains he never fired any shots during the encounter, the government stated in its pre-sentencing memorandum that it doesn't matter.

It states, "Defendant is liable for the crime of first degree murder whether he fired the bullet that killed Agent Terry because the murder occurred in the course of an attempted robbery in which [Osorio-Arellanes] was a knowing and voluntary participant."

And, even though there was no evidence Osorio-Arellanes joined the robbery conspiracy with the intent to kill someone, the government stated, "Agent Terry's murder was a tragically foreseeable consequence of defendant's agreement to engage in armed robberies."

Family members addressed the court during Osorio-Arellanes' sentencing and Terry's sister Kelly Terry-Willis called Osorio-Arellanes a coward as she described her brother as a loving and devoted family man and friend who "loved God and life."

When U.S. District Court Judge David C. Bury asked Osorio-Arellanes if he wished to speak, Attorney Clay Hernandez declined on his behalf, stating his client was very nervous and was too uneducated.

Upon Bury's urging Osorio-Arellanes finally apologized several times in Spanish while pointing out he too was shot three times and spent two weeks in the hospital.

Bury showed little sympathy for Osorio-Arellanes as he stated, "You illegally entered the United states with the sole intention of committing armed robbery. There is no doubt that your prey was human. Law enforcement got in your way, as is their duty, and as a result a good agent died."

Osorio-Arellanes is the first person involved in Terry's murder to be sentenced to prison in the United States.