BY LINDA BENTLEY | FEBRUARY 12, 2014
Creekers not only ones who want Trenk out
The Free Enterprise Club in Phoenix, claims, 'The town of Cave Creek drew a bad card,' while portraying Vice Mayor Adam Trenk as a joker
CAVE CREEK – Last week, Cave Creek voters received a mailer from the Free Enterprise Club (FEC) in Phoenix, claiming "The town of Cave Creek drew a bad card," referring to Vice Mayor Adam Trenk, whose picture appears on a Joker card, and who won his previous seat on council in a card draw due to a tie with Councilman Thomas McGuire.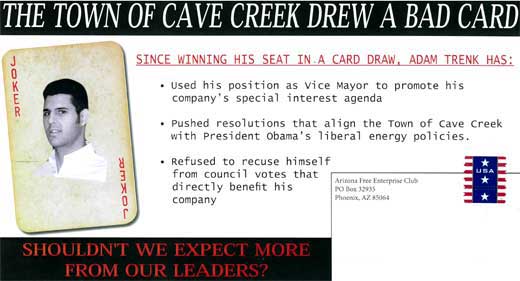 The mailer claims Trenk has been using his seat on council to promote his employer Rose Law Group's special interest agenda while pushing resolutions to align the town of Cave Creek with President Obama's radical energy policies.

It also notes how he neglected to recuse himself from council votes that directly affect his employer.

Trenk also voted on a case before council that served to benefit his client TC Thorstenson, while recusing himself from another case during the same meeting that affected other property owned by Thorstenson.

The FEC calls Trenk's behavior an abuse of power and outlined his three-step "manual" for doing so.

Step one was getting elected and being elected vice mayor. Trenk spent over $25,000 to get elected to council and received 2 votes more than Councilman Ernie Bunch, who didn't spend a dime.

Step two was to use his position on council to promote policies that directly benefit his employer and get Cave Creek on board with supporting the Obama Administration's extreme energy agenda.

And step three was to introduce resolutions supporting corporate welfare for the solar industry, of which Rose Law Group has numerous clients, without recusing himself.

Although the mailer doesn't mention the recall it asks, "Shouldn't we expect more from our leaders?"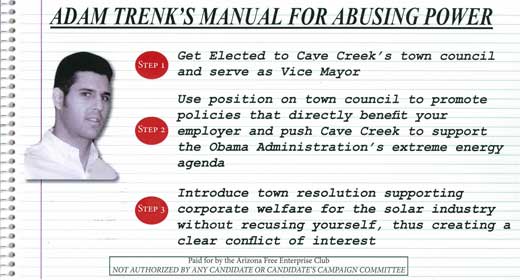 Meanwhile, a political consultant from Phoenix has jumped in to assist the Cave Creek Caring Citizens political action committee, also known as 4Cs, with collecting signatures to ensure success in recalling Trenk along with his fellow slate councilmen Mike Durkin, Reg Monachino and Charles Spitzer.

If anyone wishes to sign recall petitions for Trenk and/or the other three slate council members, we are told someone will be manning a table next week at the entrance to Frontier Town from 9 a.m. until noon, Monday through Thursday.