FEBRUARY 12, 2014
Cave Creek Auction plans Spring Classic Car Auction April 3-5
Classics, muscles, rods, collectors and exotic vehicles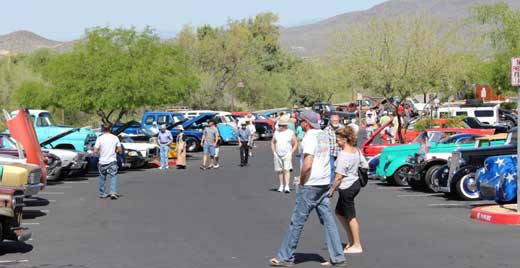 CAVE CREEK – The Cave Creek Auction Company will hold its largest auction of the year, the Spring Cave Creek Classic Car Auction, April 3-5 in Cave Creek. The event will showcase hundreds of classic, rod, muscle, collector and exotic vehicles at beautiful Stagecoach Village and feature a western theme to tie into Arizona's top western destination town. Car owners and visitors who attend are encouraged to don their western wear for the three-day event.

On April 3, the Spring Classic Car Auction will feature a preview day and a classic cruise to show off the classic cars. On April 4 and 5, the vehicles will be auctioned each day beginning at 11 a.m. until approximately 6 p.m. Cave Creek Auction Company, which is locally owned, will showcase each vehicle as many of the owners drive their own car through the lane to be auctioned during the fun western event. Well-known high energy Cave Creek Auction owner and auctioneer, Johnny B, will auction the vehicles.

The annual venue attracts car enthusiasts, collectors and the public at-large every year. Individuals who want to sell vehicles in the auction can take advantage of the company's 100/5 deal by registering their ride for auction for only $100. If the car sells, a commission fee of only 5 percent is charged. Interested buyers can register to bid by calling Cave Creek Auction at 480.525.1136 or by visiting www.cavecreekauction.com. The preliminary auction catalog will be posted on the company's website and new auction entries will be added as they are registered. Auction pre-bidding also is available online.

In addition to the car auction, vendors will be onsite as well as food and drink for purchase. The classic car auction will be held at Stagecoach Village, which is located at 7100 E. Cave Creek Road in Cave Creek, Ariz., 85331.

For more information and to bid online, visit www.cavecreekauction.com, inquire at info@cavecreekauction.com or call 480.525.1136.