BY LINDA BENTLEY | FEBRUARY 5, 2014
Community rallies around citizen in need
CAVE CREEK – An elderly Cave Creek citizen who was ill, unable to maintain her house and grounds, while also appearing to be a hoarder, became the subject of a court-ordered cleanup after neighbors filed a complaint.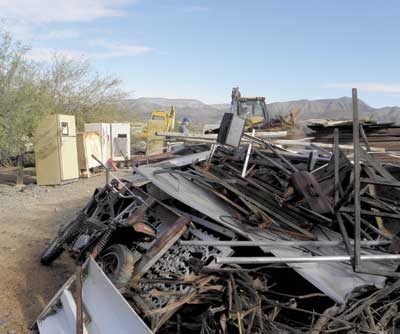 A two-day, all-volunteer work effort, spearheaded by Cave Creek Utilities Technician Dave Adams and Roxanne Slade, engineer/utilities assistant, was mobilized to assist with the cleanup.

Volunteers from Cave Creek Town Hall included Marie Carsia, Richard Esposito and Frank Dorizio, along with councilmen Mike Durkin, Thomas McGuire, Reg Monachino and Charles Spitzer.

Carol Durkin, Keith Durkin, Nina Spitzer, John and Kim Schalk, Gary Ford, David Ford, several retired Phoenix firefighters and various other Cave Creek citizens and neighbors joined in to volunteer to help with the massive cleanup.

Rural/Metro Fire Station #825 in Cave Creek, led by captains Ryan Travis and Terry Self and their squads, also volunteered their time and manpower both days.

Volunteers arrived at the property on a Saturday morning to clear brush, sort debris, metal, vehicles, boats, trailers and equipment for recycling, disposal and sale.

As the weekend progressed, they filled three roll-offs donated by Republic Waste Service and VRE Carefree LLC, with help from Larson Excavating, which donated the use of heavy equipment.

Johnny Ringo, owner of Carefree Adventures and president of Cave Creek Merchants & Events Association, coordinated food and refreshment donations by Hogs & Horses, Bryan's Barbecue, Indian Village, Horny Toad, Big Earl's and Barro's Pizza. Last Dollar Feed & Supply provided lunch from Subway.

While a few boats and trailers and other large items still remain on site, they are now organized and placed out of neighbors' view and volunteers have offered to place them on Craig's list for sale.