FEBRUARY 5, 2014
Battle of the bands and bulls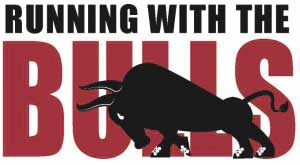 The final line-up for the Running With the Bulls Battle of the Bands has been announced. On Saturday, Feb. 8, five local Arizona bands will compete for a $2,000 cash prize and statewide bragging rights. In order of appearance, Inept Hero, Saving Pointe, Tricus, Havens End, and Tridon will perform between each bull run at the 6th annual Running With the Bulls Festival in Cave Creek. A vote-by-text system will be used during each performance to tally votes. The winner will be announced before the last bull run on Saturday.

Tridon, one of the five bands featured in the Battle of the Bands, feels that the competition is a perfect fit for the Running With the Bulls. "We are excited about being part of the craziest, coolest, event ever," says Rick, a Tridon band member. "Feb. 8th will be a party and every party has great music. So now we are partying with thousands of people and twelve nasty bulls." He adds, "Of course it would be great to win."

Sunday also has an exciting schedule of festival entertainment, including bull riding, a one-of-a-kind buffalo act, Indian dancers, and a matador show.

An estimated 7,000 people are expected to attend the festival throughout the weekend and a record breaking 2,500 runners will enjoy the adrenaline rush of a life time.

For more information on the festival and schedule of events visit www.runningwiththebullsusa.com/live-entertainment-phoenix.

Special thanks to the sponsors: Univision Communications, PLS Financial, Hogs and Horses, Lip Rehab, Ride Now, and Slices Pizza.