FEBRUARY 5, 2014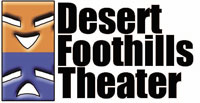 SCOTTSDALE – Wily slaves. Sexy courtesans. Boastful centurions. Star-crossed young lovers. Latin Club was never like this.

Desert Foothills Theater (DFT), a division of the Foothills Community Foundation, presents "A Funny Thing Happened on the Way to the Forum" running Fri., Feb. 14 through Sun., March 2 in the Black Box Theatre of Cactus Shadows Fine Arts Center, 33606 N. 60th Street, in North Scottsdale.

Stephen Sondheim's multiple-Tony-winning musical farce – set in Ancient Rome but ageless in its tunes and gags – comes to DFT in a madcap melange of multiple mix-ups, musical merriment, and men in muumuus. And lots and lots of slamming doors.

Sondheim himself called Forum's plot (by comedy veterans Burt Shevelove and Larry Gelbart – of M.A.S.H. fame) "the tightest, most satisfyingly plotted and gracefully written farce I've ever encountered."

The opening number, the famous "Comedy Tonight," says it all: "Old situations, New complications, Nothing portentous or polite; Tragedy tomorrow, Comedy tonight!"

DFT's production is directed by Sara Bernstein with musical direction by Reynaldo Saez.
Performances are at 7:30 p.m. Friday and Saturday and at 2 p.m. on Sunday. A special 2 p.m. performance featuring a Q&A after the show will take place on Sun., Feb. 16. Tickets range from $15-$32 for adults and $11-$16 for youth and students. Purchase tickets before Jan. 31, 2014 at midnight and receive an early-purchase discount. Group sale discounts are available for groups of 10 or more. Visit www.dftheater.org or call (480) 488-1981.