BY JOSH CHESLER | FEBRUARY 5, 2014
Lee Anderson driven by his passion for horses and the desert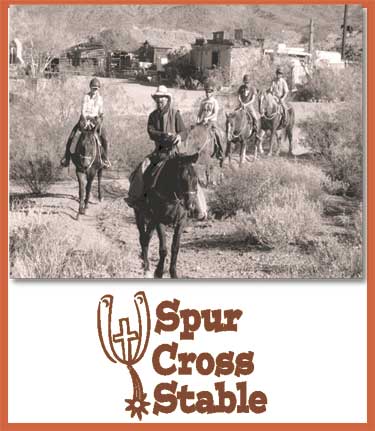 Since 2001, Lee Anderson and his wife, Rhonda, have been providing scenic horseback rides to Arizona's residents and visitors alike through their award-winning business, Spur Cross Stables.

Spur Cross Stables, located just north of downtown Cave Creek, won "Best Horseback Riding" in Arizona for four of the past six years by the television series "The Official Best Of." While the award is nice, Anderson is really in the business because he's passionate about horses and showing others all of the land that the desert foothills have to offer.

"We're like a library for a lot of the people who come up here," said Anderson, "We get people just visiting or who live out in Buckeye or Phoenix and don't know about the land around here."

Anderson estimates that Spur Cross Stables sees approximately 7,500 customers a year and about half of them have never been to Cave Creek before. Even if Cave Creek's newest visitors aren't interested in a trail ride, they'll likely spend some time eating lunch or shopping in town.

While drumming up tourism business for Cave Creek is an added benefit, Anderson believes his business's popularity and purpose goes well beyond that. "It's not about me or anyone, it's about the land and what we have here," said Anderson, a former crop duster pilot. "We really take care of this land. People have the right to enjoy it, and taking care of it, it's very satisfying."

"We're here to help people appreciate the desert," said Steven "Snake Eyes" Polgar, who has assisted Anderson at Spur Cross Stables since 2010. "It helps keep the character of the area and we show people that 'Old West' hospitality here."

According to Polgar, Anderson puts in more hours of work in a week than some people do in a month. "There's been days when I've tried to send him home, but he just comes right back. The real boss, she stays at home. She just sends him in every day," said Polgar, in reference to Anderson's wife, Rhonda.

Spur Cross Stables offers rides from one hour up to seven hours in length and is open "just about every day," including holidays, since their most popular times are around Thanksgiving and Christmas when many visitors want to take rides with friends and family, according to Polgar.

Hiking is available out of Spur Cross Stables as well, through Take A Hike Arizona.