JANUARY 22, 2014
Scottsdale's Museum of the West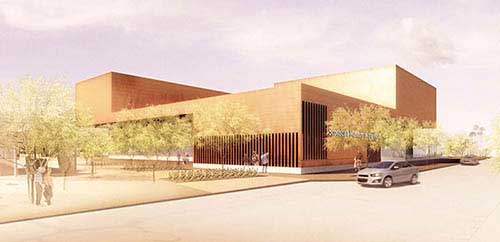 Scottsdale's Museum of the West, a two-level, 35,000 sq. ft. facility, will be located along the west side of Marshall Way at First Street in downtown Scottsdale and will take a year to construct.

Scottsdale's Museum of the West will include an orientation theater, gift shop and sculpture courtyard inside the museum. The project includes remodeling of the Loloma Transportation Center which ceased operations in 2011 – and will now become a Learning Center and administrative offices.

The Museum will be constructed and owned by the City of Scottsdale, and operated by the nonprofit "Museum of the West" organization. The Museum's Board of Directors has entered into a development and operating agreement with the City of Scottsdale and participated in the planning and development of the project and upon completion will become its sole operator.

The Scottsdale's Museum of the West will be a public attraction that presents the history of the West and its ongoing transformation using the stories of the region's diverse peoples, as seen through their eyes, the work of their hands, the sound of their voices, the products of their creativity and the spirit of generations of visual, literary, and performing artists who found their inspiration in the region. The new multi-story facility will feature a dynamic mix of innovative, immersive, and interactive "edutainment" visitor experiences; changing exhibits of outstanding regional art and cultural material; interesting public educational programming; and community participatory special events.

The museum site is in the heart of Scottsdale's historic downtown. The location will help create a partnership with the arts district galleries, studios, dining and shopping venues directly to the north and throughout the Downtown area. To this end a Museum of the West Advisory Board will be developed to respond to museum's role in Scottsdale art community.