JANUARY 22, 2014
Heard Museum North Scottsdale lease expires at The Summit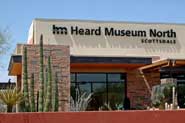 PHOENIX – The Heard Museum North Scottsdale will vacate its current location at The Summit at Scottsdale when its lease expires on May 31. Heard Museum Director and CEO James Pepper Henry (Kaw/Muscogee Creek) said of the move, "We greatly appreciate the support of our partners, including the City of Scottsdale, The Summit's owner, Donohue Schriber and major private donors."

Heard Museum North Scottsdale has had a presence in the North Valley for more than 15 years; originally sited at el Pedregal Festival Marketplace, Heard North moved to The Summit in July 2007. The facility was originally designed and constructed to be operated during a period of greater economic prosperity; today, the current configuration is not conducive to long-term sustainability. Over the past years, the community museum put on several groundbreaking exhibits, two of which were traveled to the Phoenix flagship museum. Several unique programs have also been held at Heard North, including Nights at North, fashion shows and sales, and art festivals.

The community museum includes two exhibit galleries, the Gallery Café and the Heard Museum North Scottsdale Shop. The museum galleries will close April 1. The Gallery Café and the Shop will close on May 1.

Several events that have been scheduled will continue, including:
Fashion Flash Sale, Sunday and Monday, Jan. 26 & 27
Nights at North, Wednesday evenings from Jan. 29 through Feb. 19
Heard Museum Guild Short Course: Southwestern Tribes, Mondays, March 10 through 31
Spring Shop Sale, Friday, April 4 through Sunday, April 6

"The Heard looks forward to continued community outreach with the City of Scottsdale," Pepper Henry said. The Heard will continue to have a presence in the North Valley through its partnerships with the city, the Scottsdale Chamber of Commerce, the Scottsdale Convention and Visitors Bureau, community groups, art and cultural festivals, speakers' bureau, suitcase exhibits and school tours.