JANUARY 22, 2014
Local organization to hold luncheon and tea with artists
What: Cowgirls, Chamomile & Creations Luncheon and Tea
When: January, 30, 11:30 a.m. – 2:30 p.m.
Where: Fairway House at Grayhawk Golf Club, 8620 Thompson Peak Parkway,
Scottsdale
Cost: $45 per person payable in advance of event
Reservations: Contact Mary James at mgjames8@gmail.com or 480-488-1840 by Jan. 25 deadline.

Carefree P.E.O. (Philanthropic Education Organization) Chapter FG will be hosting "Cowgirls, Chamomile & Creations," a luncheon and tea where guests will meet six talented artists and view their works.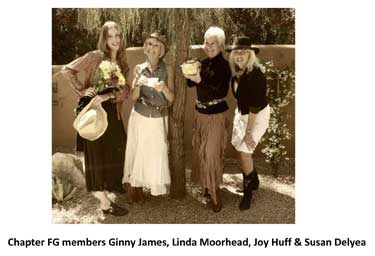 Members of Chapter FG invite all to join them from 11:30 a.m. to 2:30 p.m. on Thursday, January 30 at Fairway House at Grayhawk Golf Club, 8620 E. Thompson Peak Parkway, in Scottsdale. Event Chair Mary James said "the salad luncheon will be followed by assorted teas and lovely tea cakes. It is a great chance to mingle and spend a delightful afternoon."

Featured artists include Judy Bruce, Randy Galloway, Jonilynn Gearhart, Sue Mittelsteadt, Tracey Saliba and Jim Sudal. Each will present their art, and guests will have the opportunity to purchase pieces that day. The P.E.O. Organization was founded in 1869 with a mission to provide higher education opportunities for women.

Proceeds from the fundraiser will fund educational opportunities for women.