BY LINDA BENTLEY | JANUARY 15, 2014
Request to Speak system improved for 2014
Setting up a new account requires a one-time visit to the state legislature to register a user name and password at one of the computer kiosks
PHOENIX – While the Request to Speak (RTS) system, allowing members, lobbyists and the general public to request to speak at a House or Senate committee meeting, or weigh in on proposed legislation from the comfort of their home or workplace, has seen improvements for 2014, there is one caveat; all users will have to create a new account to access the new system.

Old RTS accounts will not be carried over to the new system.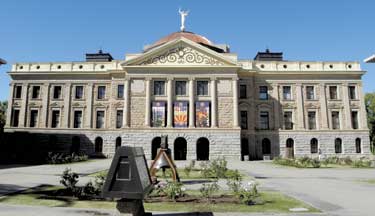 Setting up a new account requires a one-time visit to the state legislature, 1700 W. Washington, Phoenix, to register a user name and password at one of the computer kiosks.

Once an account is set up, users will be able to access the system remotely to make requests to speak at either House or Senate committee meetings or lodge a vote in favor or against proposed legislation.

The three main improvements to the system allow committee chairs to easily rearrange the order of agendas, users to access re-ordered agendas via smart phones and other devices and agenda items voted on during committee to be updated in real time.

Changes to the system are intended to improve overall efficiency and involvement, whereas committee chairs can easily rearrange agendas on the fly to suit a meeting's immediate circumstances and will make it easier for users to speak on bills being heard in separate committees with overlapping meeting times.

And, as agenda items are heard, that information will be updated in real-time, allowing users to follow the committee as it works through each item on the agenda.

As a result, users who have bills being considered in two or more committees meeting at the same time can better gauge which committee to attend first and when to leave it for the next one.