BY LINDA BENTLEY | JANUARY 15, 2014
Another plea agreement reached in Danny's Family Car Wash case
DFC's managers took part in assisting the same unauthorized aliens in obtaining their new identities
PHOENIX – Last week, Manuel de Jesus Aldaco entered into a plea agreement with the U.S. Attorney's Office for the District of Arizona, pleading guilty to one count of conspiracy, making him the 10th manager to enter a plea in a case that names 18 Danny's Family Car Wash (DFC) corporate entities and 14 managers on 78 counts of knowingly employing unauthorized aliens, conspiracy, aggravated identity theft, identity theft, immigration document fraud and false statement.

Aldaco, who is out on bond, is scheduled for sentencing in April.

A federal grand jury returned the indictment in August 2013, charging the corporate entities responsible for the operation and management of DFC, a chain of car washes located in and around Phoenix, with criminal responsibility for engaging in a conspiracy to employ unauthorized aliens.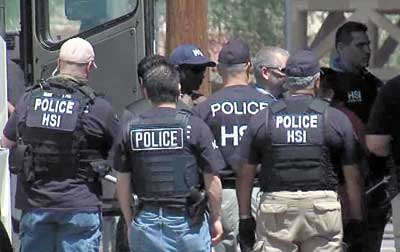 Following an administrative audit of the company's employment paperwork by federal immigration officials, DFC was notified in early 2011 that a substantial percentage of the company's employees were aliens lacking authorization to work in the United States.

Responding to those findings, DFC's management purportedly terminated those unauthorized aliens from its work force by April 2011.

However, soon afterward, the indictment states DFC began rehiring many of those same individuals by allowing them to assume new identities during the rehiring process.

In several instances, DFC's location managers and other members of DFC's upper management took part in assisting the same unauthorized aliens in obtaining their new identities – sometimes going so far as to help them procure counterfeit identification documents – and in falsifying Form I-9, the employment eligibility document required by the Immigration Reform Act of 1986, that needed to be completed during the re-hiring process.

The indictment charges the DFC entities, as well as many individual managers with aiding and abetting or conspiring to commit the crimes of engaging in a pattern or practice of knowingly hiring and employing illegal aliens and other crimes involving aggravated identity theft and immigration document fraud.

In January 2008, the Legal Arizona Workers Act (LAWA), also known as the Employer Sanctions Law went into effect in Arizona.

LAWA made employer use of E-Verify, a federal verification system that interconnects with databases maintained by the Social Security Administration (SSA) and U.S. Citizenship & Immigration Services (CIS), during the hiring process, mandatory, with few exceptions.
The only way an unauthorized alien can obtain authorization during the E-Verify process is by assuming the identity of an authorized worker and providing documents reflecting that person's name and personal identifiers.

The administrative audit of the company's Forms I-9 conducted by federal immigration officials in September 2010 revealed 942 of the 1,912 current or recently active employees, roughly half the company's workforce, had presented insufficient or ineligible documents for employment at the time they were hired.

In March 2011, the feds notified DFC's management of its audit results by issuing a Notice of Suspect Documents (NSD), which identified all 942 of the suspect employees by name and provided each with an opportunity to contest the government's findings regarding their eligibility.

On April 25, 2011, DFC's attorney submitted a signed certification letter to federal immigration authorities indicating DFC had terminated all 942 employees listed on the NSD on April 23.
Shortly thereafter, DFC began rehiring many of the same individuals under new identities with managers affirmatively assisting the employees in securing new identification documents with personal identifiers belonging to others.

For example, Juan Ruiz-Gonzales, who was supposedly terminated on April 23, was subsequently rehired by allowing him to assume the identity of Reymundo R., who, since at least 2012, has worked as a manager at various DFC locations.

Carlos Vazquez-Escorcza, also purportedly fired on April 23 was subsequently rehired by allowing him to assume the identity of Cirillo R., who, since at least Dec. 2011, has worked as a manager at various DFC locations.

Albertico G.S., supposedly fired on April 23, contacted Ruiz-Gonzales about being rehired.

According to the indictment, Ruiz-Gonzalez told Albertico G.S. he could obtain a new identity from Henry Hernandez-Alonso, another DFC manager and once he obtained the new identity, he would be allowed to continue working for DFC.

Hernandez supplied Albertico G.S. with a new identity that belonged to Vidal P. and told Albertico G.S. that he'd spoken to Jack Vincent Edlund, DFC's general manager of operations about the rehiring plan and Edlund had approved the plan.

DFC also utilized a professional employer organization (PEO) to coordinate and administer their human resources responsibilities.

Ruiz-Gonzalez, according to the indictment, claimed DFC's PEO was aware employees were presenting counterfeit identity documents.

In one instance, the indictment states Albertico G.S. and Ruiz Gonzalez left the San Tan location and traveled to Hernandez's house where both Hernandez and Ruiz-Gonzalez assisted in taking a picture of Albertico G.S. and transmitted the picture electronically to a document vendor.

Shortly thereafter, the vendor delivered a fake driver's license with the photograph of Albertico G.S. and the name and other personal identifies of Vidal P., along with a fake social security card bearing the name and social security number of Vidal P.

The 28-page indictment goes on to illustrate numerous other instances in which management employees helped facilitate identity fraud.

On Dec. 9, 2013, U.S. Attorney John S. Leonardo's Office (USAO), for the District of Arizona, filed a notice concerning timing of superseding charges to inform the court of certain developments that had occurred since the September 2013 status hearing.

Noting the grand jury returned an indictment in August 2013 charging 14 individual defendants as well as 18 corporate defendants with an array of crimes, the brief states, "Since then, nine of the individual defendants have entered guilty pleas, another two are scheduled to plead in January 2014, and another one was scheduled to plead guilty in October 2013 but was forced to postpone/cancel his change-of-plea hearing due to the withdrawal of his attorney."

While the court set a firm trial date of Nov. 3, 2014 for the case, which has been granted complex status, it required the government to discharge most of its discovery obligations by Jan. 10, 2014.

During the September status hearing, the United States told the court it would likely seek to supersede by refining the current charges and also add new, presently uncharged individuals to the list of defendants.

The USAO said it had been engaging in discussions throughout the fall of 2013 with a handful of currently unindicted individuals in an attempt to obtain pre-indictment resolutions with the expectation they would be completed by December 2013.

However, the discussions resulted in only one pre-indictment resolution while discussions with the remaining unindicted individuals were ongoing.

Meanwhile the USAO has received non-binding signed agreements from the various individuals stating, in the event the pre-indictment discussions prove unavailing, he or she will agree to stay on the current track for a November 2014 trial, while the 18 corporate entities already charged have signed a letter agreement with the USAO stating they would be willing to postpone the current trial date, if necessary, to accommodate the USAO's ongoing discussions with the un-indicted individuals.