JANUARY 15, 2014
CCUSD Faculty and Staff Art Exhibit, Reception
Cactus Shadows Fine Arts Center now through February 17
Bring family and friends to a Meet the Artists Reception and enjoy their wonderful artwork! Thursday, Feb. 6 from 5 – 6 p.m. at the F.A.C.E. Gallery in the Lobby of the Cactus Shadows Fine Arts Center.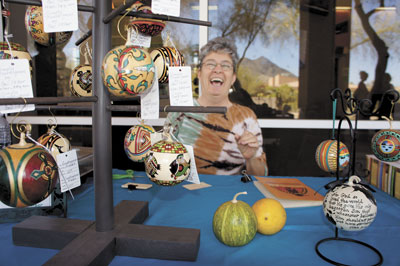 Exhibiting this year are: Nicole Bellino, Joye DeGoede, Bev Felber (pictured above), Nancy Gervasio, Linda Howell, Robin Ray, Carolyn Telfer, Ilona Wale and Deborah Wales.

The Cactus Shadows Fine Arts Center is located at 33606 N. 60th Street, Scottsdale 85266. For information, please call 480-575-2039.