BY LINDA BENTLEY | JANUARY 8, 2014
Street banner program expanded
Francia asked, "Should all of this not be worked out before we vote?"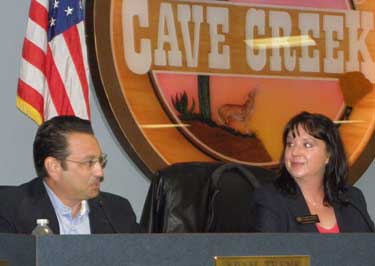 CAVE CREEK – Monday night's council meeting was yet another marathon, front loaded with guest speakers Maricopa County District 2 Supervisor Steve Chucri and Senator Michele Reagan, R-Dist. 23.

During Call to the Public, Melanie Williams spoke to say she was a member of the open space advisory group and mentioned a few of the numerous events, a couple of which have become popular annual events, to raise money toward the purchase of open space.

She said the former town manager kept them apprised of where they were with respect to the purchase of the open space, whether it was good or bad news, and stated, "Since this council was sworn in in June, we've heard nothing …"

Williams said there was only one meeting held with the state land department and it was in executive session, behind closed doors.

Meanwhile she said council has spent $200,000 on frivolous items.

Mayor Vincent Francia said he would be happy to fill her in after the meeting or a time of her choosing.

Williams said she would prefer he do so in public.

Bob Moore told council he met with Toby Payne and said Harold's and the Buffalo Chip have made great efforts to reduce noise.

Now, he said Black Mountain Shadows is subjected to loud music and noise from Hogs and Horses and the Hideaway and called the noise ordinance "woefully inadequate."

Stating the town needs to amend its noise ordinance, Moore said Maricopa County Sheriff's Office seems to think the Hideaway has some sort of permit that allows it to violate the noise ordinance.

Because Cave Creek has a complaint-driven system, Moore produced a complaint form signed by 32 citizens from Black Mountain Shadows and publicly turned the complaint in to Town Marshal Adam Stein.

Foothills Food Bank Executive Director Pam DiPietro thanked the town, especially Reg Monachino, for helping the food bank achieve the largest donations ever for December.

Anna Marsolo countered Williams' statements by saying council shouldn't feel too bad that the new council could not achieve in six months what previous councils could not accomplish in the last three-and-a-half years.

Interim Town Manager Rodney Glassman announced Utilities Manager Jessica Marlow was leaving to accept a position as Water Manager for the town of Gilbert.

He said the job opening to replace her has been posted and congratulated her on her new job.

Chucri said Maricopa County is the fourth largest in the nation and his district has a population of 770,000.

He said the county has been paring down the way it does business to become more efficient.

According to Chucri, the county gets sued three to four times per week. He said, "Now, when we get sued we tell them to go pound sand," stating, "Let them take us to court because we'll win."

He said Maricopa County is no longer "government as usual."

Reagan, who represents North Scottsdale and Fountain Hills let people know the new legislative session starts next Monday where approximately 1,500 bills will be introduced.

She asked, "Do you need 1,500 new laws every year?" and said, "We need input on what you want and what you don't want."

Reagan said the legislature will start working on an $8 billion budget in a couple of weeks.

Johnny Ringo, president of the Cave Creek Merchants and Events Association (CCMEA), reintroduced the banner program and said they've made changes based on input from council during the last meeting.

Ringo said the program was pared down from 24 to 12 posts with 6 in the town core.

He said the street banner program is "self-sustaining" and the revenue would be split with 20 percent going to the town and 80 percent to CCMEA.

Ringo also stated CCMEA was introducing a new salsa competition event to the town.

Jean Glass, treasurer of CCMEA, provided more details for the revised street banner program, stating they pared down the number of poles in the town core to six, including four from the pilot project.

She said a new pole would be installed in the median on Cave Creek Road between Surrey and Carriage drives and another pole at the east end of town at Scopa Trail.

Glass said six more poles would be placed in the median along Carefree Highway, with five extending to 36th Street and one in the median by Walmart.

Not included in the previous proposal, Glass proposed a large "slot sign" for the northeast corner of Cave Creek Road and Carefree Highway to promote town events.

She said all banners would be branded with the town's logo in the bottom right corner.

She said there were 17 businesses in town that want to adopt the four poles in the town core, with the other two reserved for town events.

The cost to adopt a pole would be $1,200 for six months and the banners would cost $129 with discounted pricing for nonprofits.

According to Glass, the estimated time for paying back the town for the poles at $700 per pole would be 12 months.

Glass said this was an opportunity to create consistent marketing in the town.

Vice Mayor Adam Trenk asked if the 20/80 split was gross or net and if there was a design for the slot sign they could see.

Glass said she could e-mail the design and explained the cost structure would be the cost of the poles less the cost of the banners. So, it would be $1,200 less $258 then split 20/80.

Planning Director Ian Cordwell suggested bringing the slot sign back to council separately.

Councilman Mike Durkin asked how the selection process would go.

Glass said it would be by application on a first come first serve basis but no one could renew contiguously. They would have to wait six months and would be given first refusal.

Francia asked who came up with the 20/80 split.

Glass responded, "Ian, Bambi [Muller] and myself."

Francia said he had concerns about the decision-making process since it is a town-sponsored project.

Glassman said the money would be distributed 100 percent at the discretion of CCMEA and stated it was no different than the town giving CCMEA a check for $10,000 to promote an event.

Francia said he didn't see how the town could be accountable to its citizens.

During public comment David Smith expressed concerns about this being a subsidy to CCMEA and, depending what's on the signs, the town could have certain liability concerns.

Kerry Smith said he was confused about the revenue structure and pricing and pointed out the signs would have different values depending on if it were during high or low season.

He suggested they consider an alternative pricing scheme and possibly an auction.

Smith stated a 20/80 split of an uncertain amount is an uncertain amount.

Trenk moved to adopt the program and said he supported the pared-down version but didn't believe it was ready for council.

He said they needed a procedure for allocating space as part of a comprehensive sign policy.

Councilman Ernie Bunch seconded the motion and said he liked where it was headed.

Durkin said he was "generally in support" of the idea and possibly approving it for a year or two, expressing concerns about favoritism.

Councilman Thomas McGuire asked if they had looked into similar programs in other communities.

Glass said she had, adding said this was a "sure-fire way to promote events and the town."

Monachino said "The mayor hit the nail on the head … this is a partnership, but the question of signs is a totally different issue."

He said since the town will be reimbursed the program is revenue neutral.

However, as far as administration of the program goes, Monachino recommended the town not get involved in the day to day operation.

He liked Durkin's idea of trying it for two years.

Councilman Charles Spitzer thanked CCMEA and noted the banners were almost all sold out and the town's expenses were covered for one year. He said he supported the program with the changes made.

Because the program is only open to CCMEA members, Francia asked how they could tell corporate sponsors, such as Sanderson and APS, which have been very generous to the town, they can't be on the banners?

Trenk moved to amend his motion to move forward with the pilot program for four months, except to expand it by installing all of the additional posts; direct staff to revisit the sign ordinance; have the town collect the revenue and there be no split until the town has recouped all of its costs; and that the program would not go beyond April until council has the policies brought back.

Durkin said it sounded like micromanaging.

Monachino said he couldn't support it with the pricing or any administration of CCMEA's program.

Trenk said the reason for moving forward was because we are in high season.


Francia asked, "Should all of this not be worked out before we vote?"

Monachino verified, "The funds go to the town?"

Trenks stated there would be no split until the town's costs are completely recouped.

Council voted 5-2 to approve the motion with Francia and Monachino dissenting.

Marlow and Rob Bryant of Waterworks Engineers presented the Fire Infrastructure Assessment Report.

She said the Desert Hills Water representative brought up an interesting point during the Water Advisory Committee's review of the report, whereas Desert Hills water customers are already being taxed for infrastructure improvements through the Daisy Mountain Fire District.

Bryant stated the ISO engineer report was underway and the water system has sufficient storage.

He said more fire hydrants are needed throughout town and in Desert Hills but the town was in good shape as far as the town core was concerned.

Marlow stated it would cost approximately $1 million per booster station to upgrade them for flow and the town is replacing any water lines in town that are less than eight inches.

When Rural/Metro Fire Chief John Kraetz was asked if he concurred with the report's findings, Kraetz said he would like to be provided a copy of the report and be included in discussions as they moved forward.

Bill Allen, who serves on the Water Advisory Committee, said the committee was meeting on Wednesday, stated they approved the report in general, the changes needed to be made were minor, and it would not need to come back to council.

Marsolo said during the last 10 months she's reported water leaks on School House Road five times and wondered what the town planned to do.

Marlow said the town was moving it up on its priorities and it shouldn't be a large project.

Spitzer moved to approve the report.

Monachino urged them to have a final report come back to council for approval.

Spitzer agreed.

Durkin said he was not willing to approve until the report was in its final form, stating the town spent a lot of money on the report and he wanted to have all the "I"s dotted before approving.

Francia said, "So long as the final report comes back to council, I'm willing to move this forward."

The motion, which was amended to approve with the stipulation that the report come back to council for a final vote, failed by a vote of 3-4, with Trenk, Bunch, Monachino and Durkin dissenting.

Bunch's motion to reconsider passed unanimously, then his motion for conditional approval, that the final report come back to council, passed unanimously.