BY LINDA BENTLEY | JANUARY 8, 2014
SCOTUS grants stay in Utah same-sex marriage ruling
According to Shelby, recognition of same-sex marriage 'expands religious freedom'
WASHINGTON – On Monday, Jan. 6, 2014, the U.S. Supreme Court granted the state of Utah's application for a stay of a permanent injunction issued by the U.S. District Court for the District of Utah, ruling the state's ban on same-sex marriage unconstitutional, pending the final disposition of its appeal.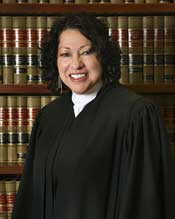 The application was presented to Justice Sonia Sotomayor (r) and referred by her to the court following the 10th Circuit Court of Appeals Dec. 24 ruling denying the state's emergency motion for a stay and temporary motion for a stay pending appeal.

The 10th Circuit noted, "A stay pending appeal is governed by the following factors: (1) the likelihood of success on appeal; (2) the threat of irreparable harm if the stay is not granted; (3) the absence of harm to opposing parties if the stay is granted; and (4) any risk of harm to the public interest … The first two factors are the most critical, and they require more than a mere possibility of success and irreparable harm, respectively."

After considering the district court's decision and the parties' arguments concerning the stay factors, the 10th Circuit concluded a stay was not warranted and denied the state's emergency motions for a stay pending appeal and for a temporary stay while directing expedited consideration of the appeal.

The plaintiffs in the case, Derek Kitchen, Moudi Sbeity, Karen Archer, Kate Call, Laurie Wood and Kody Partridge, are three gay and lesbian couples who want to marry but were barred from doing so because voters passed an amendment to the Utah Constitution in 2004 prohibiting same-sex marriage.

The plaintiffs argued the prohibition infringes their rights to due process and equal protection under the Fourteenth Amendment of the U.S. Constitution.

And while the district court agreed the regulation of marriage is up to the states, it stated, any regulation adopted by a state, whether related to marriage or any other interest, must comply with the U.S. Constitution.


On Dec. 20, U.S. District Judge Robert J. Shelby (l), nominated by President Obama in November 2011, declared Amendment 3, passed by voters in 2004, unconstitutional and enjoined the state of Utah from enforcing those sections of the Utah Constitution to the extent they prohibit a person from marrying a person of the same sex.

Shelby concluded in his 53-page ruling, "Rather than protecting or supporting the families of opposite-sex couples, Amendment 3 perpetuates inequality by holding that the families and relationships of same-sex couples are not now, nor ever will be, worthy of recognition.

Amendment 3 does not thereby elevate the status of opposite-sex marriage; it merely demeans the dignity of same-sex couples. And while the state cites an interest in protecting traditional marriage, it protects that interest by denying one of the most traditional aspects of marriage to thousands of its citizens: the right to form a family that is strengthened by a partnership based on love, intimacy, and shared responsibilities. The plaintiffs' desire to publicly declare their vows of commitment and support to each other is a testament to the strength of marriage in society, not a sign that, by opening its doors to all individuals, it is in danger of collapse."

According to Shelby, even though the state did not present an argument based on religious freedom, recognition of same-sex marriage "expands religious freedom" because some churches with congregations in Utah desire to perform same-sex wedding ceremonies but are currently unable to do so.

Shelby, in determining the state had provided no evidence that opposite-sex marriage will be affected in any way by same-sex marriage, wrote, "In the absence of such evidence, the state's unsupported fears and speculations are insufficient to justify the state's refusal to dignify the family relationships of its gay and lesbian citizens."

He went on to conclude the Constitution protects the plaintiffs' fundamental rights, which include the right to marry and the right to have that marriage recognized by their government and stated, "These rights would be meaningless if the Constitution did not also prevent the government from interfering with the intensely personal choices an individual makes when that person decides to make a solemn commitment to another human being."

Calling the harm experienced by same-sex couples in Utah as a result of their inability to marry "undisputed," Shelby stated it placed "same-sex couples in an unstable position of being in a second-tier [relationship]," and said "the state's interest in preserving its traditional definition of marriage is not sufficient to survive rational basis review."

The court found "no rational connection between Utah's prohibition of same-sex marriage and its goal of fostering an ideal family environment for a child."

The case, which is pending before the 10th Circuit Court of Appeals, has been set for an expedited briefing schedule to conclude on or before Feb. 25, 2014, with requests for extension of time "strongly discouraged."